Spring Clean Your Bike With This Five-Step Plan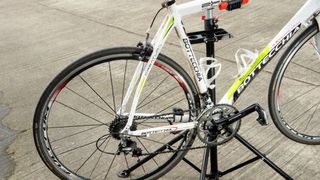 (Image credit: unknown)
Summer's almost here, new cycling lanes are popping up all over the UK and avoiding public transport is recommended if possible – it really is a great time to start cycling. Or restart cycling, as will be the case for many of us who have let our rides go to seed. With cycle shops and bike brands struggling to meet demand, it's well worth dusting your bike down and getting it back into a roadworthy condition.
If it's in need of repairs, then from June you might be able to access one of the half a million £50 vouchers the government is set to make available to help with bike repairs. There are no details about how to claim these vouchers just yet, but keep an eye on announcements from transport secretary Grant Shapps for more news.
However, if your bike just needs cleaning and a general tune-up before you ride, then this step-by-step spring-cleaning plan from Tony Hetherington of cycle care brand Crankalicious (opens in new tab) will see you right.
1. Degrease Your Drivetrain
Step one is to ensure your gears are in good order. Nothing derails a ride as effectively as the chain coming off every time you try to shift gear.
"After a heavy winter of riding or a period of no use the drivetrain needs the most attention," says Hetherington.
"Clean the grease, oil and gunk from your derailleurs with a degreasing product to make sure gear changes are crisp and sweet. Then use a chain-cleaning sponge or dedicated device to remove all the grit and grime from your chain.
"Make sure to finish off with some lubrication. Gear changes will never have felt better."
2. Make A Clean Brake Of It
You know what's really important when riding a bike? Being able to stop it. Dirty brakes can make that trickier.
"Make sure to clean both your brakes and the braking surfaces – the outer edge of the wheel, or the discs themselves – with a residue-free cleaner," says Hetherington.
"It will remove all the dirt and grime without leaving a trace to ensure braking is as efficient as possible. Also remember the cables, pivot points and levers – a small amount of water-displacing spray and lubrication will help improve performance and feel throughout the braking system."
3. Spruce Up Your Frame
The brakes and gears are the key parts to clean in terms of performance, but you also want your bike to look good, right?
"Use a foaming bucket wash with a wash mitt to remove mud and dirt while preventing further scratching," says Hetherington.
"For stubborn stains use a spray cleaner and leave it for a few minutes, but be sure to rinse well afterwards."
See related :
4. Buff Up Your Handlebars And Seat
You actually have to touch these parts of the bike when riding so obviously you don't want them to be dirty.
"Your bar tape, seat and shoes see a lot of use, but rarely receive attention," says Hetherington.
"Use a vinyl and fabric cleanser to remove the sweat, mud and grime that gets embedded in the fabric. Finish them with a spray sealant to prevent the contaminants penetrating so easily in the future."
5. Spit And Polish
After steps one to four your bike will be clean and ready to ride with pride. Step five is all about getting it as close to factory-fresh perfection as you can.
"Now your bike's clean, you have the chance to improve its finish," says Hetherington.
"Use a mark- and scratch-removing frame polish like Crankalicious's Mayo Jaune to perfect the finish. Then use dedicated cleaners where possible to bring your bike components back to life, such as a specialised tyre cleaner for tan wall tyres, or chrome polish for your vintage specials.
"You can protect the finish with a nano spray sealant or hybrid frame wax. They'll also make your bike easier to wash next time. What's not to like?"
For more guides on cleaning and improving your bike, head to crankalicious.com (opens in new tab)
Sign up for workout ideas, training advice, the latest gear and more.
Thank you for signing up to Coach. You will receive a verification email shortly.
There was a problem. Please refresh the page and try again.