Alex Dowsett: The Giro Was The Biggest Missed Opportunity Of My Career
By Coach Staff published
The champion cyclist on using his brain more than his legs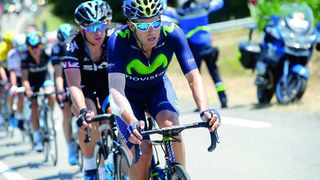 (Image credit: unknown)
World record-smashing cyclist and 2016 national time trial champion Alex Dowsett is the king of the negative split. Here's how he fights the clock to become a better rider.
"I was lined up to do the Giro d'Italia this year but the skin opened up over the metal plate in my collar bone. I could tap the shiny metal poking through and feel it vibrating up the bone my under my skin," says Alex Dowsett, in the kind of tone that the rest of us would use to describe a particularly stressful trip to the supermarket.
When it comes to bouncing back from adversity, the 28-year-old Tour de France and Adidas Sport Eyewear athlete has had a lot of practice. Ever since he was diagnosed as a haemophiliac he has been proving the naysayers wrong and rewriting the rulebook on time trialling, the event cycling enthusiasts call the purest form of racing – just you, your bike and the clock.
After winning a time trial gold medal at the 2014 Commonwealth games, he beat Bradley Wiggins to breaking the hour record in 2015, clocking up 52.937km in the London Olympic Velodrome. The handful of riders who have broken that record usually had to suffer like dogs to achieve it. But according to Dowsett, "it felt surprisingly easy". He puts that down to being super-disciplined and pacing his effort faultlessly. But how does he keep his cool to out-think the competition while riding on the limit? And what advice does he have on training for and executing the perfect athletic effort?
What got you into cycling in the first place?
I just wanted to be very good at something. As a haemophiliac I was told to do swimming because there was no risk of a bone break, which can put you in hospital for a month, but I wasn't very fast. I did a bit of mountain biking with my dad and I discovered road cycling when I borrowed a road bike from one of his mates.
So did being a haemophiliac hold you back?
Not really. I was already fit from the swimming and after my first time trial on the road bike I was told I should stick with it. So it's probably more true to say my haemophilia is the reason I'm a pro cyclist. I read an interview with (perfume entrepreneur and cancer survivor) Jo Malone and she said, "What life takes with one had it gives back twice with the other" and I feel like that was the case with me.
How do you stay focused when it's just you on the road, racing the clock?
I'm good at maintaining concentration, judging my effort, and pacing it well. On my Garmin I have as much information as I can possibly get – it takes my mind off the pain.
There's a lot of data in cycling – can you get too obsessed with the numbers?
You come in after a race and everyone asks, "What power did you average?" To win a time trial you need the fastest time and the fastest average speed – but people focus on a big power number. I'm happy to let them get on with it because I'm focusing on going fast.
Has your riding evolved over the years?
I use my head more than my legs now. In a race in Germany I outweighed a team-mate by 10kg and averaged 395 watts to his 400 watts but I put 2½ minutes into him just by doing things like sitting on my top tube and freewheeling on descents.
How disappointed were you to have missed out on the Giro last year?
I was in tears watching the Prologue – it was a short, flat time trial, Fabian Cancellara was sick, two of the other favourites crashed and Tom Dumoulin was beatable that day. It will be the biggest missed opportunity of my career.
What ambitions do you still have?
I want my hour record back (Wiggins broke it a month after Dowsett). I know from the numbers that it's possible for me to go further than Wiggins – it wouldn't be easy but I would love to have another go.
The hour record has a reputation as a painfest – what was your strategy?
The guys who say it's horrific are the ones who have gone far too hard. I had a schedule and I stuck to it, and I waited for it to get brutally hard like everyone said it would, but it just didn't.
What's the most important lesson you've learned about training?
To mix it up. If you constantly do the same training then you get very good at that but it's not as effective as it was before. Doing something completely different shocks your body and your legs and you get more benefit from it.
Alex Dowsett rides in Adidas Sport Eyewear Zonyk Pro (adidas.com/eyewear (opens in new tab)) and was speaking at the Rouleur Classic (rouleurclassic.cc (opens in new tab))
Coach is the place to come for all your health, fitness, and personal wellness needs.
Sign up for workout ideas, training advice, the latest gear and more.
Thank you for signing up to Coach. You will receive a verification email shortly.
There was a problem. Please refresh the page and try again.