Beeline: The Best Way To Navigate Cities On A Bike
By Nick Harris-Fry last updated
This new handlebar device beats turn-by-turn directions hands down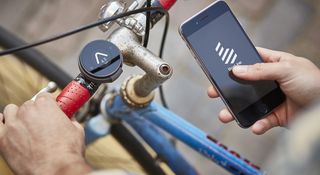 (Image credit: Unknown )
A whole new navigational trend is coming, where instead of turn-by-turn instructions, cyclists find their way around using a simple arrow, that points in the direction of their destination at all times.
Having attracted a boatload of interest since it launched on Kickstarter, Beeline is spearheading this movement. Unlike many Kickstarter campaigns, Beeline is actually set to come to fruition, with products shipping before the end of the year.
Beeline is a very simple device. Its rubber case straps to your handlebars or stem and once you set your destination in the app, a screen pointer shows which direction it is in and gives the distance. You can also set waypoints to hit along the way. The promise is a more casual way of getting around than turn-by-turn, which allows you to explore the city without ever getting lost.
If you're not convinced by the merits of this relaxed approach and have a phone mount, you can give the Beeline system a try without the accessory itself, as the app allows you to navigate in the same way. Once you do give it a go, there's a good chance you'll be hooked, as Coach found when attending the Beeline test event.
Coach didn't expect to like Beeline. A navigational tool without turn-by-turn instructions seemed a bit pointless, especially in the one-way mazes of east London, where we tested it out. Coach couldn't have been more wrong.
Turn-by-turn navigation is great when it works perfectly, but tends to stick to busier roads and when you miss a turn you have a huge panic while it recalculates your route.
Beeline is always just a glance away from giving you all the info you need, and you can take whatever small roads you spy when on the move. Even if you're really in a rush, the results are rarely much slower than the direct route.
The Beeline is a better way to navigate than turn-by-turn, and far more enjoyable too. Pre-order £99, beeline.co (opens in new tab)
RECOMMENDED: Cycling Route Planners to Get You From A-to-B
Sign up for workout ideas, training advice, the latest gear and more.
Thank you for signing up to Coach. You will receive a verification email shortly.
There was a problem. Please refresh the page and try again.