Advertisement Feature
The Fitbit Fifty Route: What to Expect When Running and Riding from London to Edinburgh (and Back)
By Joel Snape published
Fuel properly, put some time in on the saddle and go hard – but don't forget to stop and enjoy those views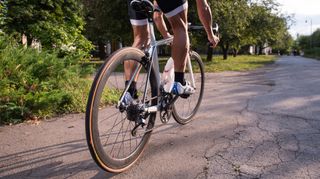 (Image credit: Unknown)
For the amateur athletes selected to run and ride from Buckingham Palace to Edinburgh Castle and back in 50 hours, the Fitbit Fifty is more than just a physical challenge. It's a chance to see some of the UK's most glorious scenery from the saddle – heading through the Yorkshire Dales, the Pennines and the Northumbrian Fells, as well as taking a speedy tour through two of Britain's most vibrant cities on foot.
Finishing the event will take training, technical expertise and perseverance – but that doesn't mean the entrants, who'll be in one of the two teams of six competing, can't enjoy the journey. To help out, we consulted a quartet of seasoned ultra-endurance athletes who are familiar with the route, asking them for advice on strategy as well as their favourite bits of scenery.
Part one: London
The Fitbit Fifty starts and ends with a run through the capital, and there's no shortage of sights. Participants might as well keep the pace steady to take some of it in, since this is really just the warm-up.
"The nice thing about the early part of the challenge is that it takes in chunks of the London Marathon," says Duncan Grainge, ultra-runner and coach at training company SISU, who's competed at the Kona Ironman World Championships three times, as well as finishing the infamous Marathon Des Sables, a six-day ultra-marathon through the Sahara desert. "So for people who've never managed to get a place on the London Marathon, it's a great way to get a taster of the route.
"As you approach the end of the first mile marker you'll hit your first steady, gentle incline going into Covent Garden," he says. "Between mile one and two you can get a look at the Savoy Hotel and then Somerset House, once a royal palace. This is about the right time to start your hydration – small and often is critical to keeping your glycogen stores topped up and your body functioning efficiently for as long as you can."
Next up is the Royal Courts of Justice on your left, and down Fleet Street. "This sees you at the start of Ludgate Hill," says Grainge. "Remember to keep the steps short and quick on hills – a high leg turnover will help see you up to St Paul's Cathedral, then along Bishopsgate up towards Brushfield Street, which is the steepest incline on the route. You'll run past a lovely patisserie, but unfortunately that isn't part of your fuelling strategy.
"Next up are Truman Brewery and Brick Lane, a relatively flat stretch that will allow you to pick the pace up a little – stay steady throughout and focus on your breathing. The part of the route that's most popular among London runners is Victoria Park, home of the world's oldest model boat club – it's even got a set of dip stands if you want to get an arm workout in. Don't go too hard on the steady uphill towards the end of the run – you don't want to risk building up too much lactate before the bike. Enjoy the finish at the Queen Elizabeth Olympic Park, maybe get a photo in front of the rings and saddle up!"
Part two: South to North
The section of the challenge that heads out of London by bike will be familiar to a few cyclists, including John Readman, who organises multi-day cycle tours around the UK and abroad. "The UK's a fantastic destination for cycling," says Readman. "People think they've seen it travelling on motorways, but you see so much more of it from a bike, heading through those little towns and villages that you'd never normally see. The one off-putting thing is the weather, but the good news is that the riders should have a crosswind for most of the route. It's actually very similar to the route we'd go on a Leeds-to-Paris cycle, which has some of the most breathtaking scenery in the country – just to the west of Peterborough and York, and especially the area around the Vale of York, just after you get past Doncaster, is pretty fab."
To prepare for the challenge, Readman, whose rides cover an average of 100 miles a day, says there's no substitute for actual riding in training. "People will say 'Oh, I've been on the turbo trainer, I've been in the gym, I've been on the Wattbike', but you need that time in the saddle, because it's a completely different sensation that uses a completely different set of muscles," he explains. "And of course, there's the road craft, being safe and comfortable on the road."
He also doesn't advocate that our challengers spend all their time worrying about their bikes. "One bit of advice I always give to people is, if you're going to spend your money on your kit, you should get yourself a good pair of shorts," he says. "If someone had asked me 10 years ago if I'd ever spend £200 on a pair of cycling shorts, I'd have laughed at them – but if you're seriously into long-distance cycling, they're one of the best investments you can make. It's about comfort and padding: everyone thinks road cycling is going to be painful, but it really doesn't need to be: get some bib shorts with some decent strong material. And get your bike properly fitted, not just by the bloke you bought it off: get someone who'll video you in the saddle. Over hours and hours, little things like the height of your saddle and the angle of your cleats will really add up. It might cost you £150, but if you're spending five grand on a bike and nothing on proper shorts or a bike fit, it's worth thinking about."
After Cambridge and Huntingdon, there's relatively little climbing until you've skirted around Peterborough. It starts to get tougher again around Clipsham, but you'll be rewarded by cycling under English oak trees along a picturesque bridleway. Then it's onward and north. "The nice thing about the Yorkshire section is that it's mostly flat," says Readman. "This'll be a nice break – though if you want to do it fast, you might still want to work on drafting behind your team-mate on the road."
Ideally, you'll have tackled the transition from bike to run in training: "If you haven't got time for extended bike-to-run brick sessions in your training, adding 10-20 minute runs straight off your bike is a great way to train your muscles to make the transition without taxing them too much on top of your other training," says Grainge.
The next run is a chance to take a break from the bike, shake out your legs and enjoy the flat, mostly-green terrain of Yorkshire as you head off the A19, up a set of footpaths, and across the River Ouse. Enjoy it while it lasts…
Part three: The green roads to Scotland
The day's second big stretch of cycling starts after a swift run through Riccall to Bishopthorpe, and it's some of the most beautiful scenery the riders will see all day. Sam McClary, who ran and rode the length of the UK in 2014, remembers it with mixed feelings. "I was having a bit of knee pain at the time – it felt like someone was stabbing me – but the roads were pretty good," she says. "There's a nasty 27 per cent hill somewhere in there that's pretty bad, especially after the volume of cycling the guys have already done, but having a team of riders around you always helps – not just for being able to slipstream behind them, but also for the odd pickup when the dark times come."
The highlight of this chunk of the route is a hilly ride through the heart of Northumberland National Park. "Make sure you've got your head up for that," says McClary.
Part four: Castles and cobbles
The final run of the day takes you from the outskirts of Edinburgh to the heart of the old town with some of the city's most iconic scenery en route. "Of course, it's also pretty hilly," says Fiona McKenzie, one of two instructors at the city's Edinburgh Running Network. "The approach up to the castle is just about the highest point on the route, but at least you'll have the chance to appreciate some beautiful views when you're up there. You'll be approaching the castle from the barracks side, which is one of the best views of it – very recognisable, very iconic."
Of course, you don't want to slip up at this stage, so it's a good idea to be aware of the route's pitfalls before you set off. "A lot of those roads are cobbled, especially around St Giles Street," says McKenzie. "Make sure you've got a pair of shoes that are well broken-in and that you're confident will carry you through. The return section through South Bridge is a pretty busy street full of buses and people, though if you hit it early enough it won't be a problem."
Things quieten down after that either way, with one more chance to appreciate the hilly views out over the city and surrounding countryside before the downhills to the golf course and the start of the return leg.
From 2008 to 2018, Joel worked for Men's Fitness, which predated, and then shared a website with, Coach. Though he spent years running the hills of Bath, he's since ditched his trainers for a succession of Converse high-tops, since they're better suited to his love of pulling vans, lifting cars, and hefting logs in a succession of strongman competitions.
Sign up for workout ideas, training advice, the latest gear and more.
Thank you for signing up to Coach. You will receive a verification email shortly.
There was a problem. Please refresh the page and try again.