The New Brompton T Line Folding Bikes Are Exceptionally Light, But Start At £3,750
By Charlie Allenby published
The T Line is made from titanium and weighs just 7.45kg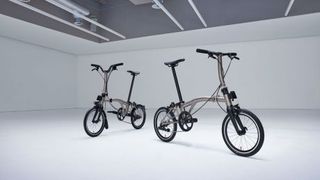 (Image credit: unknown)
Pioneering folding bike company Brompton has revealed the T Line range, consisting of two models: the singlespeed One and the four-speed Urban. The T Line One weighs just 7.45kg, making it the lightest bike that the London-based brand has ever produced.
There's no getting around the eye-watering prices of £3,750 for the One and £3,950 for the Urban. That's roughly the same as a high-end carbon fibre road bike or even one of the best e-bikes.
"There is an old adage in cycling: light, strong or cheap – pick two," says Joel Natale, Brompton's head of production management. "We picked two, and we try to make products that will fulfil the others for you. We're never going to let the strength go because it's integral to you being able to use this bike day in, day out, but if you want cheap and strong, we do other products as well."
The T Line isn't just a concept or a limited run, and Natale believes it will be filling a gap in the market that Brompton doesn't currently cater for.
"When we survey our own customers, if you ask them for three things they would like in a new bike, around 70% say they want a lighter bike, and if you ask them for just one thing, you'll get a third of people saying the one thing they would want would be a lighter bike."
The T Line has delivered on this desire, in part through the use of a titanium frame, and is 3kg lighter than the lightest steel alternative from Brompton. "It's a really significant weight saving versus a steel bike, but the biggest difference is carrying," says Natale. "It's night and day for someone who has a multimodal commute. If you could carry a [steel bike] before, you'll now do it more easily, or it might be that you literally couldn't do it before and you were rolling or unfolding instead."
Titanium isn't just used for its weight-saving properties either. It also contributes to the strength that Bromptons are renowned for, and Natale says that T Line owners can be confident that it'll handle the cut and thrust of commuting on a folding bike.
"There was no interest in creating something that could only be ridden on a warm sunny day in California. This is a bike to be used, and titanium has all the properties that suit that. It can be given a good kicking and survive."
It's not just the frame that is different from a standard Brompton – 150 of the bike's components have been redesigned or refined to create something that's both lightweight and functional. In fact, all that remains from the steel version are the brakes.
"We've got a 40-year-old design and people have wanted to change things for a long time, but because we've got so much production going on it's very hard to make what would seem like a small change," explains Natale. "This bike gave the designers a front-to-back opportunity to change things, so they wasted nothing."
See related
A carbon fibre crankset (pictured, above) combines a low weight with a stiff feel, meaning you should be able to get away from traffic lights even quicker. Out goes the heavy Sturmey Archer internal gearing in the back wheel's hub in favour of a 60g derailleur, which Natale says offers a range "you could do most things on".
The bike still has practical features that make it well suited to commuting. The carbon crank has a plastic guard on it to protect trouser legs from getting caught in the chain. The carbon fibre seatpost with its 110kg limit has been wrapped in a thin layer of steel to increase its longevity and stop it wearing out with every extension and retraction. Improvements such as self-aligning hinges and larger diameter rolling wheels will make folding, rolling and unfolding an even smoother process.
Although Natale expects these improvements to either be available as aftermarket options or to trickle down to the rest of the range at some point, he says that won't be happening anytime soon: "We're a small team and we're making stuff ourselves. We don't have the joy of just being able to outsource our problems to someone else. We have to figure it out."
While its price will certainly put it out of reach for most, if you crave one bike that can do it all (apart from mountain biking), an option from the Brompton T Line might just be it.
The Brompton T Line starts at £3,750 and is available exclusively via a ballot system that you can register for on brompton.com (opens in new tab) and through selected Brompton Junction stores in London, New York, Shanghai, Singapore and Paris.
Sign up for workout ideas, training advice, the latest gear and more.
Thank you for signing up to Coach. You will receive a verification email shortly.
There was a problem. Please refresh the page and try again.