The Best Balance Bikes For Kids
By Nick Harris-Fry last updated
Get your child started on the road to full pedal pushing with a balance bike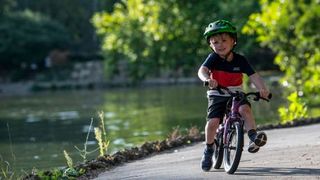 (Image credit: Unknown)
Stabilisers are out. Once the go-to option for kids learning to ride a bike, they've now been superseded by balance bikes – and with good reason. With stabilisers a child doesn't learn how to balance the bike themselves, and when you do remove the stabilisers you may find the bike is heavy and difficult for your child to manoeuvre. With a balance bike, children learn how to balance themselves: they can take to this surprisingly quickly, and if they feel like they're about to topple they can just put their feet down.
Balance bikes also make transitioning to a pedal bike easier. Tell them to treat it like a balance bike at first, putting their feet on the pedals once they're moving, they'll pick it up – hat tip Herne Hill Velodrome (opens in new tab). Most importantly, balance biking is a lot of fun.
When picking a balance bike you need to consider two things. First is the weight of the bike – cheaper options will lose their budget charm if they're too heavy for a child to use comfortably, and remember you might end up lugging it around if your kid decides to walk. The second is the size of the wheels. If your child is around 18 months, 10in wheels will probably be best, while 12in and 14in wheel sizes will work for kids from two to six years old.
---
The Best Balance Bikes
(opens in new tab)
Islabikes caters for all ages, but its founding focus was on creating top-quality, ergonomic kids' bikes. The Rothan is the brand's balance bike and it comes in two sizes – 12in (ideal for 2+) and 14in (3+). Both are built around a lightweight aluminium frame that makes carrying it a breeze, and have toddler-friendly brake levers and adjustable saddles. Plus, as one of the few balance bikes currently in stock, it might just mean that Santa gets your little one something from their Christmas list this year.
Buy from Islabikes (opens in new tab) | £199
---
(opens in new tab)
With design echoes of the BMX bikes Chris Hoy first raced on, the Hoy Napier could be the bike that starts your child on their own journey to multiple Olympic gold medals. Even if it doesn't, it's a great option, with a lightweight aluminium frame and a stopper on the handlebars that will stop nippers from over-steering. Most importantly there's a handle attached to the seat because you will find yourself carrying it.
Buy from Evans Cycles (opens in new tab) | £110
---
(opens in new tab)
This small balance bike is a little heavier than some more expensive options at 3.5kg, but that's still not too heavy, and the Puky LR M is good value and has all the features you need. This includes a foot deck to rest their feet on (read: not drag their shoes along the ground and ruin them) while they're cruising, and an adjustable saddle and handlebars.
Buy from Bikester (opens in new tab) | £59.99
---
(opens in new tab)
A hugely popular option and one that's hard to find in stock anywhere as a result. In fact you might be better off hitting the classifieds, and we'd recommend popping the bike on there after your kid has finished with it because while Frog bikes are expensive, they hold their value well. The Tadpole Plus is a larger balance bike with 14in wheels, so it works well for kids aged three to four, and it has brake levers to help smooth the transition to a pedal bike.
View on Frog Bikes (opens in new tab) | £220
---
(opens in new tab)
The Runride 520 is quite the bargain at £50 and is the best budget balance bike option we've come across. It has 10in wheels, and an adjustable saddle and handlebars. It also has a brake lever that's designed to fit small hands. It weighs 3.5kg and has puncture-proof tyres, because no parent needs the extra hassle of that repair job.
Buy from Decathlon (opens in new tab) | £49.99
---
See related
(opens in new tab)
This bike is expensive, but really you're buying three bikes for the price of one, because the Pinto can be changed from a balance bike into a 12in or 14in wheel pedal bike, thanks to the adjustable frame and removable gears and pedals. It's a clever piece of kit that will grow with your child, making that initial outlay seem more reasonable. It is heavier than other options at 5.9kg, but that's the trade-off for a bike which will last longer.
Unfortunately, the Pinto is out of stock and there's no indication of when new ones will be available again. But all hope of securing a Black Mountain bike isn't lost. The Skog (opens in new tab), which is the next size up, is due to come back into stock in December. And, when combined with the Notch saddle (opens in new tab), the bike can be sized down a smidge to make it suitable for smaller riders, which leaves you with a ride that will last until they're at least seven.
Buy from Black Mountain (opens in new tab) | £399
---
(opens in new tab)
The Scoot has 12in tyres and is a great option for two- to four-year-olds, with a back brake designed to fit their hands. There's a handle under the seat to help you carry the bike when your kids don't want to ride, especially useful considering it weighs 4.9kg, and it comes in a wide range of bright colours sure to please all comers.
Buy from Freewheel (opens in new tab) | £129.99
---
This subscription service is a great option for those who don't want to try to re-home a bike that their child has outgrown, or suspects a balance bike will end up gathering dust in a corner. Pick your bike from the options available and then you can hire it for a low monthly fee – balance bikes start at just £4.99. Once your kid is too big for it (or your dust-gathering suspicions have been confirmed), you just send it back.
Sign up (opens in new tab) | From £4.99 a month
Sign up for workout ideas, training advice, the latest gear and more.
Thank you for signing up to Coach. You will receive a verification email shortly.
There was a problem. Please refresh the page and try again.