The Best Bike Phone Holders And Mounts For Urban Cycling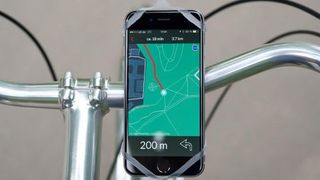 (Image credit: unknown)
With the right apps, your smartphone can do a very good imitation of a cycling computer, and it can certainly help you find your way around with turn by turn directions from route planning apps.
To get the most from these apps you need to be able to see your phone while you ride, and a phone holder and mount is the best way to go about achieving that.
You can get mounts to attach to your handlebars or the stem tube of your bike, and while some are more secure than others, all those on this list are robust and steady enough to keep your phone in place (on reasonably well-maintained roads at least).
There are hard cases that you order to fit your exact phone, and soft ones that can take a range of phones. The latter are often cheaper and easier to use, but the hard cases offer more protection and often come with a reassuringly secure clip-in or twist-in mount.
---
The Best Bike Phone Holders
Shapeheart Magnetic Bike Mount
(opens in new tab)
Shapeheart's array of accessories harness the considerable power of magnets to secure your phone in various places. With a bike mount, you might fear that mere magnetism is not enough to hold a phone in place on the handlebars when hitting potholes or bumping your way down a forest track, but we've tried our best and there's nothing that will knock our phone loose. It's actually pretty hard to prise the phone off the handlebars at the end of a ride.
The kit comes with the mount and a sleeve, and you can pick the size of the sleeve to suit your phone. This is a little less elegant than the cases you can get with some mounts designed to fit your phone model exactly, but at least it means you won't have to change the mount case when you upgrade your phone. The sleeve has a clear front that allows you to use your touchscreen and is waterproof.
---
(opens in new tab)
You select a hard case for your exact phone model, then twist and lock the case on the mount, which you can put on the handlebars or the stem of your bike. It's a highly secure system and you can get other mounts that work with the case, such as car windscreen or air vent mounts. The bundle also contains a waterproof cover for your phone, so you can use the mount in all conditions.
Buy from Freewheel (opens in new tab) | £54.99
---
(opens in new tab)
Don't have an iPhone or Samsung Galaxy? No problem. The Omni RideCase DX from Topeak uses elastic silicone grippers to secure your phone, and these can be stretched to fit phones with 4.5in to 6.5in screens, with or without a case. A system on the rear of the case allows you to slot your phone into the mount that comes with it, which you secure to your bike's handlebars. The result is clear, easy-to-see directions. Although it leaves your phone exposed to the elements, it's a great buy for fair-weather cyclists.
Buy from Tredz (opens in new tab) | £37.99
---
(opens in new tab)
At their most basic level, phone mounts are a handy accessory to have when you're heading somewhere new and require the assistance of a map. This cheap silicone model from Halfords is easy to attach to your handlebars when you need it, but doesn't clutter up your bike with a mount when not in use. Its secure, tool-free design takes seconds to attach, meaning your (in)ability to follow directions is the only thing likely to cause a delay.
Buy from Halfords (opens in new tab) | £10
---
Lezyne Smart Energy Caddy Frame Bag
(opens in new tab)
While the other inclusions in our round-up involve attaching your phone to your handlebars, this smart piece of kit combines the practicalities of a bike phone holder with the storage space of a saddle bag. Its positioning on the frame can make looking at directions trickier, but its ability to store mid-ride essentials such as a multitool and inner tube means you can leave your cycling rucksack at home.
Buy from Tredz (opens in new tab) | £32 (currently reduced to £24)
---
(opens in new tab)
On the surface, the Bike Kit from Zéfal might look identical to the Quad Lock offering, but it has one key difference – a waterproof case. Although we wouldn't want to go swimming with it, the case should offer enough protection for your smartphone if you get caught in a downpour when out on your bike. The case locks into place securely on the included mount, and doesn't affect your touchscreen's useability. The only snag is that it's currently only available for iPhones.
---
Bike Citizens Finn Handlebar Phone Holder
(opens in new tab)
This cheap and cheerful mount might seem worryingly inexpensive, but we've met cyclists who've successfully used it to hold their phone in place riding around London. The strap system means that you can use the mount with many different types of phone, though those straps will obscure parts of edge-to-edge screens. The holder is also easy to attach to your handlebars or swap to another bike, making it a useful purchase for regular users of bike-share schemes.
Buy from Bike Citizens Finn (opens in new tab) | €15 (around £13.63)
---
(opens in new tab)
Another mounting system where you buy a case for your phone that can then be used to attach it to many different mounts. Quad Lock's products are by no means cheap, but the mount is secure and lightweight, and you can easily swap from a portrait to a landscape set-up on your phone depending on what's best for the app you're using. Once you've picked up the mount you'll have to shop for the phone case separately, but a comprehensive range of models are covered on the Quad Lock site (opens in new tab).
Buy from Quad Lock (opens in new tab) | From £29.95
See related
A frame bag offers a third way to keep one eye on directions, although because it's located on the crossbar it's harder to see and interact with your phone. It is, however, waterproof and there's a fair bit of storage in the bag to carry essentials like a spare inner tube and tyre levers.
Sign up for workout ideas, training advice, the latest gear and more.
Thank you for signing up to Coach. You will receive a verification email shortly.
There was a problem. Please refresh the page and try again.