The Best Bike Covers To Protect Your Ride From The Elements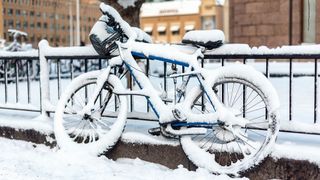 (Image credit: Shutterstock)
The joy of owning a bike comes from riding it. From cycling to work with the wind in your face, avoiding traffic jams and public transport, and saving money. From spending all Sunday exploring the countryside with friends.
The joy absolutely does not come from figuring out where to store your bike if you don't have a shed or garage.
However, it's an essential question for many bike owners, especially those who live in flats, perhaps with roommates who aren't delighted by the idea of squeezing past a bike in the hallway every time they come home.
Often the only option is to store your bike outside, which means you need a bike cover. Unless you fancy having to continually repair the damage done by the elements.
Naturally you want your bike cover to be waterproof, or at least water resistant, and also to block out UV rays, which can damage your bike over time too. Openings that allow you to lock your bike are also useful if you're planning on leaving it in a front garden.
You can also get covers for bikes stored indoors, which don't need to be waterproof, but will stop the bike getting scratched or smearing grease on anyone who passes by too close to it. The good news is that there are plenty of affordable options. Browse our picks of the best bike covers, then check out the best bike locks or the best cycling backpacks.
The Best Bike Covers
Goose Bike Cover
Best all-round bike cover
Specifications
Size:
70cm x 110cm x 180 (WHD)
Reasons to buy
+
Durable
+
All-round feature set
The Goose bike cover is made from 210D Oxford fabric, wherein thinner outer fibres and thicker inner fibres are woven in alternating horizontal and vertical directions, resulting in an extremely durable fabric. That'll prick up the ears of anyone who's ever ripped a cheap cover after snagging it on the big ring. The Goose provides rain, sun and dust protection, and it comes with a storage pouch, a storm strap for tethering it down on windy days, and an elasticated hem for securing it under your tyres. It's also got reflective loops so you won't reverse over it in the dark!
---
B'Twin Protective Bike Cover
Best affordable option for a sheltered spot
Specifications
Size:
123cm x 123cm x180cm (WHD)
Reasons to buy
+
Affordable
+
Storage pouch included
It's easy to dismiss B'Twin as a cheap own brand, but Decathlon doesn't take the easy route of bulk-buying low-cost products and slapping its own decals on them. B'Twin products are often designed and built by Decathlon, or at least sourced with quality in mind. The B'Twin Protective is a basic elasticated cover composed of polyester and polyurethane, meaning it's water resistant rather than waterproof, making it better for carports, balconies or sheds than for completely outdoor storage. It's affordable, it's very easy to fit, and it comes with a storage pouch for when not in use.
---
Oxford Aquatex Single Bike Cover
Best waterproof option for easy fitting
Specifications
Size:
80cm x 110cm x 200cm (WHD)
Reasons to buy
+
Easy to fit
+
Lots of useful features
Reasons to avoid
-
Potentially not as durable as other covers
Oxford makes covers for everything from motorbikes to road bikes, and its single bike cover is an affordable, UV-resistant option with reflective panelling and a storage pouch. The 100D polyester construction provides a balance between durability, weight and stiffness that will make it easy to fit, although you might want to weigh it down when it gets windy if your storage space is outside. As the Aquatex name suggests, the cover is waterproof.
---
BikeParka Urban
Best bike cover with an opening for a lock
Specifications
Size:
60cm x 125cm x 205cm (WHD)
Reasons to avoid
-
Might not be wide enough for broader bars
-
Colour can fade
The large cross on the side of this cover is an opening with Velcro fastenings that allows you to lock your back wheel and frame up with the cover on. The cover is waterproof and packs away into a stuff sack – you can even shove the cover into the sack wet and take it with you, because it won't get damaged by being stored while damp. For those looking for extra security, there's a camouflage design of the Urban cover available, because you can't steal what you can't see, can you?
---
(opens in new tab)
LifeLine Waterproof Single Bike Cover
Best for locking your bike up on a driveway
Reasons to buy
+
Durable
+
Clever design touches
The Lifeline Waterproof has several selling points, including its reflective panelling, which is ideal for preventing bumps from cars if you're going to store your bike in a driveway or communal parking area. It comes in several sizes depending on how many bikes you want to cover, and the 210D material has a low-level hole at the front for passing a lock or ground anchor through. The opening is reinforced with red weave, so it won't rip and (more importantly) will be easy to find amid the folds of fabric. Be warned – if you ride a 29er, it won't fit the wheels.
---
Topeak
Best for thick, durable fabric
Specifications
Size:
63cm x 100cm x 178cm (WHD)
Reasons to buy
+
Strong fabric
+
Resistant to water and UV
Reasons to avoid
-
Comparatively basic set of features
Rust is the bane of a cyclist's life. A rusty chain will not only shorten the life of components, but it'll make you work harder too. This rain cover from Topeak will help keep the orange stuff at bay courtesy of a 190T nylon fabric that is not only water-resistant but also UV-proof. What's more, it has a handy bag attached to it that it can be stuffed into when not in use – meaning no more scrabbling around trying to find somewhere to store it.
---
BEEWAY Bike Cover
Best cheap waterproof cover
Reasons to avoid
-
Less durable than others
You can get this waterproof nylon cover to fit one or two bikes, and it has holes on the side that let you slip a lock through the front wheel(s) at the bottom. Both versions are large enough to cover most bikes and have a bottom strap that can tighten the material, making it less likely to be blown free – although we found it won't handle the worst winter storms, so make sure to secure it by other means if there's a weather warning. We bought one of these in 2017 and it's only just become unusable, with the material wearing out and ripping. We'd call that pretty good going for the price.
Bike Covers Buyer's Guide
Most of us put months or even years of research into buying a bike, and it's not until we get it home that we realise we also need to think about how to protect it when it's not being ridden. To decide on the best bike cover for you, begin by identifying where you'll store it, because that will dictate the qualities you require.
If you will store your bike somewhere sheltered like a shed or garage, then durable heavyweight fibre that can resist the odd bump from a lawnmower is going to be more important than waterproof or UV resistant fabric.
Alternatively, if you'll be storing it in a driveway, you'll want water resistance at the very least and ideally some reflective elements to stop you from accidentally nudging your bike with your car in the dark. Outdoor storage also makes some form of lock port vital, so that you can run a chain or D-lock out through the cover and around something secure, without inadvertently letting the rain in.
Fabric weight plays a huge role in determining what conditions your cover is best suited for. Much like buying a bike, you're looking for the optimal balance of stiffness, durability and weight.
Fabric thickness tends to be measured in one of two ways. Denier (D) measures the weight in grams per 1,000 metres of yarn, while Tex (T) measures it per 9,000 metres of yarn, so broadly speaking 1T is nine times thicker than 1D. It may sound as though the bigger, thicker fabric will provide the best protection for your bike, but the annoyance that comes from trying to wrestle excessively thick fabric over your bike far outweighs the extra protection it provides.
Unless you're feeling very, very precious about your bike, it's better to look for a lighter fabric with a more durable weave, such as 210D Oxford or Ripstop.
Finally, check the size of the cover. While most covers are designed with road or hybrids in mind, recent trends towards very wide handlebars and 29cm wheels mean that some mountain bikes can be difficult to cover.
Jamie Ewbank is journalist with a lifelong love of cycling, both as a sport and a pastime. He has tackled a few mountains, ridden many century rides, and has unwillingly swallowed numerous angry wasps while descending at speed, so he's seen the best and worst that cycling has to offer.
Amid a career that has tackled a variety of subjects he has written about cycling for The Wall Street Journal (opens in new tab), Cycling Weekly, Cycling Plus, Cycling Active, Bike Radar (opens in new tab) and The Guardian (opens in new tab).
Sign up for workout ideas, training advice, the latest gear and more.
Thank you for signing up to Coach. You will receive a verification email shortly.
There was a problem. Please refresh the page and try again.