The Best Kids Bikes: Top Picks For Your Child's First Ride
By Nick Harris-Fry last updated
Get your kids into the saddle with the best bikes for children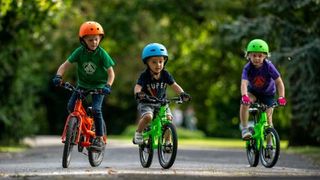 (Image credit: Unknown)
Buying your child their first proper bike and teaching them to ride is a rite of passage for you as much as for them. You can make it an enjoyable experience for all concerned by buying a suitable bike – and in this regard weight is crucial. Many budget bikes (especially the ones branded with kids' favourite characters) are too heavy for most children to balance on without stabilisers. The frames are typically made of steel which will be described as "tough" or "robust", but at 10kg or so for a 14in wheel we think they're best avoided.
As you've no doubt clocked, the lighter the bike, the more expensive it is likely to be, and how much to spend is naturally a serious consideration – especially since children will outgrow the bike eventually. The good news is that you don't have to buy the lightest bike for your kid – just one that they're able to handle. If you can, get them to try out a bike in person. If they can't hold it steady without stabilisers when stationary, keep looking.
To find the right size, take height and in-seam length into account, and match this up to wheel size. Manufacturers and retailers will have size guides to help.
If you're the type who's keen on getting value for money, look for the ability to adjust the handlebars and saddle on the bike. Also make sure to get tyres suitable for the terrain you'll be tackling: slimmer options will ride smoothly on the road, but you'll need wider tyres if you're planning to cycle on trails as well.
Here are our recommendations for bike models to consider. Stick with one of these and your nipper will be rolling on two wheels in no time.
---
The Best Kids Bikes
Weight: 5.3kg for 14in wheel size
Islabikes was started by former pro cyclist Isla Rowntree in 2006 and the brand has become a byword for well-designed children's bikes. While they're certainly not cheap, you get a top-quality bike for your outlay, and with new bikes in short supply across the industry, they should hold on to their value pretty well. The Cnoc's smart features include a fully enclosed chain – meaning there's no chance for your budding miniature mechanic to get their fingers caught – and a shape that's focused around keeping toddlers in a more comfortable, upright position. But its biggest (or rather smallest) selling point is its weight. At just 5.3kg, this is a bike that won't be a pain to carry if your little one decides they've had quite enough cycling for one day.
Buy from Islabikes (opens in new tab) | £399.99
---
(opens in new tab)
Weight: 6.9kg for 16in wheel size
Specialized has gone above and beyond with ways to modify this bike so it can keep up with your child's growth. The reach of the handlebars (essentially how far they are from the saddle) can be adjusted by rotating them forwards or back, the brake levers can be tweaked without digging around in the toolbox, and the seatpost is extra long so it can extend as its owner's legs do. Specialized claims that it should last three summers, so you'll get some serious ride-time out of your investment. The single-speed build (one gear) is ideal for flat terrain, and the chunky tyres will handle bridle paths and gravel tracks with ease.
Buy from Specialized (opens in new tab) | £319
---
(opens in new tab)
Weight: 6.46kg for 14in wheel size
One of the most popular kids' bikes available, the single-speed Frog 40 is a brilliant first pedal bike. It's lightweight and aimed at kids aged three to four, with 14in wheels (there are similar 16in and 20in models available) and adjustable brakes to make them easier to fit your child's hand. The headset can be locked to make it simpler to steer the bike as your child learns, and the handlebar grips are pleasingly soft. It's an expensive option, but you can be assured of clawing back a significant part of the outlay once the young 'un is finished with it, either by selling it back to a local bike stop (many run buyback schemes with prices preset according to the condition of the bike), or by hitting the classifieds. Stock is not due to come back on the Frog website until Spring 2022, but there's a fair chance your local independent bike shop will have stock so make sure to check there too.
Buy from Frog (opens in new tab) | £340
---
(opens in new tab)
Weight 5.95kg for 16in wheel size
The Bonaly range includes options ranging from 14in wheels up to 24in, so there's an option for children of most ages. The bike is named after one of Chris Hoy's favourite spots to ride as a youngster, and it's not just pristine roads you'll find in and around Bonaly, so there are 1.75in tyres that can tackle light trails with ease. Here's some good news: it's in stock and delivery is within seven days whether your little one would like a new green, blue or pink steed.
Buy from Evans Cycles (opens in new tab) | From £300
---
(opens in new tab)
Weight 8.7kg for 14in wheel size
Whatever age you're buying for, Decathlon's in-house B'Twin bike brand is worth checking out, offering quality at a lower price than you'll find elsewhere. There are bikes in the range with 14in, 16in and 20in wheels. Each employs brake levers designed for smaller hands, and are lighter than you'll find than other bikes at this price. There's a five-strong range of colours in the 14in selection, and Decathlon offers a range of accessories like baskets and "child seats" which can help seal the deal with your threenager.
Buy from Decathlon (opens in new tab) | From £99.99 (currently reduced to £69.99-£79.99)

---
See related
(opens in new tab)
Weight 8.9kg for 14in wheel size
Another range with wheel sizes to suit many ages, but this one goes down to 12in if you want to start 'em early. It's a well designed bike with all the kid-friendly features you'd hope for, but let's not beat about the bush – it's the exceptionally cool colour combos that'll draw adults to this brand. The Raleigh website has stock in a handful of sizes and colours, but you can find your local bricks-and-mortar retailer on the site, or check what's still available at Cycles UK (opens in new tab), Rutland Cycling (opens in new tab) and Evans (opens in new tab).
Buy from Raleigh (opens in new tab) | From £220
---
Until their late teens, your child is going to outgrow any bike you get them. That is a fact of life and a hard one to swallow given the cost of some of these bikes, even if you're a dab hand at selling used bikes. Another option is The Bike Club subscription service, where you pay a monthly fee to hire a bike, then return it when they're is too big for it (or, perhaps, stop riding once the weather turns) and pick out a more appropriate option. Once you look beyond balance bikes (opens in new tab), which are available from £4.49 a month, it costs from £13.49 a month to hire children's bikes via the service, with the most expensive larger options costing £26.49. Although a lot of bikes are currently unavailable, it's possible to join a waiting list for the make and model you've got your eye on. There are also adult bikes available, if you fancy joining the young 'uns on their rides.
Sign up (opens in new tab) | From £13.49 a month
---
(opens in new tab)
Weight 6.1kg for 16in wheel size
If you can't get past the idea of having to buy new bikes every year or two as your child grows, Black Mountain offers a solution. The upfront cost is high, but you get an adjustable bike that can grow with your child. With the Skog you're getting a 16in pedal bike, which can be sized down into either a balance bike and something akin to a 14in pedal bike, with an adjustable frame and removable gears and pedals that allow you to switch between the options. (Black Mountain also offers the Pinto (opens in new tab), with 14in wheels, although it's sold out until January 2022 at the earliest.)
Despite this wizardry, the aluminium frame is still light at just over 6kg, and the belt drive means less maintenance with no oiling required. While the bike is currently sold out and won't arrive in time for Christmas, Black Mountain is due to open its pre-orders any day now, with delivery scheduled for January. Plus, if you sign up for the waiting list, you'll get sent an email as soon as pre-orders go live, allowing you to live out your dreams of taking on Who Wants To Be A Millionaire?'s fastest finger first challenge.
Sign up for workout ideas, training advice, the latest gear and more.
Thank you for signing up to Coach. You will receive a verification email shortly.
There was a problem. Please refresh the page and try again.