The Best Bike Lights For Commuters To Keep You Riding Through Winter
By Charlie Allenby last updated
Don't let the dark evenings prevent you from getting around by bike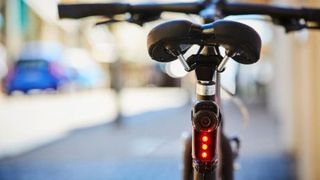 (Image credit: Unknown)
If you've only ever commuted by bike in the summer months, you might be put off by the rigmarole that comes with riding in winter. The cold and wet conditions tend to add a challenge to proceedings, while riding in the dark can feel a lot less safe than cycling in daylight. But it is possible and, with the right kit, can still be an enjoyable way to get around.
As winter essentials go, it's good to have a breathable, waterproof jacket and a warm pair of gloves for those cold starts. However, a set of lights is non-negotiable – front and rear lights are a legal requirement for riding in the dark. Although a set can be picked up for as little as £10, it's worth investing in reliable lights that will help keep you visible on the road.
A light's brightness is measured in lumens, and roughly 400 lumens is the minimum you should look for when buying a front light to illuminate an unlit road. A light that's just to keep you visible doesn't need to be as powerful; this type is suitable for riding on well-lit roads or as a secondary light attached to a helmet or bag.
Rear lights don't need to be as bright because they're used only for increasing visibility. That said, it's worth looking for something around 35 lumens if you're planning on using it during daylight, and a light with flashing modes will help you stand out from the crowd and other light pollution at night.
Lights come in all shapes and sizes, in pairs or as individual items. If you're planning on using them for commuting, a rechargeable battery is a must. Some level of waterproofing is recommended too if you want them to last longer than one winter of riding.
Here are our top picks, ordered by price, from least to most expensive.
---
Knog PWR Road 700 Front Light
(opens in new tab)
When is a bike light not just a bike light? When its battery doubles up as a power bank. Part of Aussie brand Knog's PWR line, the Road 700 packs (you guessed it) 700 lumens into three LED lights, making it perfect for lighting the way and leading the charge. It has six modes and claims to last a whopping 165 hours on Eco Flash. Recharging is done with a micro USB cable, and it is simple to clip and unclip from the included handlebar mount.
Buy from Sigma Sports (opens in new tab) | £84 (currently reduced to £58)

---
See related
Bontrager Ion 200 RT/Flare RT2 Light Set
(opens in new tab)
For £1 more (RRP) than the Knog above, bag yourself a pair of lights that are perfect for commuting in the city. The 200-lumen front and 90-lumen rear lights are said to be visible from 2km away, so they should be bright enough to catch drivers' attention. Waterproof to IPX7, meaning they can be submerged in water for up to an hour, they can stand up to anything the weather throws at you. The lights are recharged with a micro USB cable, and attaching or removing them from your bike, helmet or seatpost doesn't require any tools.
Buy from Sigma Sports (opens in new tab) | £85 (currently reduced to £74)

---
Kryptonite Avenue F-100 & R-50 set
(opens in new tab)
Although known for its bike locks, US brand Kryptonite also makes commuter-friendly bike lights. The F-100 and R-50 set is kind of self-explanatory (you've got a 100-lumen light on the front and 50 lumens at the rear) and, conveniently, they're USB rechargeable. The main highlights are the built-in memory function, which means you don't have to cycle through different modes to get to the setting you want every time, and the multiple mounting options, which include a clip that lets you attach a light to your cycling rucksack.
Buy from Freewheel (opens in new tab) | £74.99
---
(opens in new tab)
When cycling, you may wish you had eyes in the back of your head so that you can spot cars and vans approaching at speed. This light from Garmin gives you your very own on-bike radar system so you can do just that. When attached and activated, the light is able to detect vehicles approaching from the rear, notifying you on a cycling computer (not included) or your phone. It tells you not only how close the vehicle is, but also its speed (green for slow, red for fast). Although it might sound like a bit of a gimmick, it's amazing how useful those little warnings become, especially when riding on narrow country roads where drivers might try to pass you when there simply isn't room.
Buy from Wiggle (opens in new tab) | £169.99 (currently reduced to £145.99)
---
(opens in new tab)
Exposure is renowned for making some of the best high-lumen lights around, but if your budget can't quite stretch to £320 for a front light, then the Trace Pack is an ideal compromise. The aluminium casings offer a premium design and the cable-free build means that there's even less chance of water damage to your investment. Although on the lower side in terms of lumens (110 front and 75 rear), the addition of side illumination helps increase your visibility. It's easy to clip the lights in and out of the included handlebar and seatpost mounts, and a handy traffic light battery gauge shows when the lights need recharging.
Buy from Wiggle (opens in new tab) | £85 (currently reduced to £79.99)
---
Lezyne Macro Drive 1300XL/Strip Pro Light Pair
(opens in new tab)
The most expensive set in our round-up is also the most powerful. The Macro Drive 1300XL from Lezyne packs a serious punch, its 1,300 lumens strong enough to light up dark off-road paths. It's not a flash in the pan, either – the most powerful mode will last 2½ hours before it needs to be charged. The rear light is just as impressive, and can last between three hours (at 50 lumens blast) and 53 hours (five lumens flash). As with the others in this round-up, recharging is taken care of with a micro USB cable, while the lights are held in place using a secure silicone strap.
Buy from Tweeks Cycles (opens in new tab) | £138 (currently reduced to £95.99)
Sign up for workout ideas, training advice, the latest gear and more.
Thank you for signing up to Coach. You will receive a verification email shortly.
There was a problem. Please refresh the page and try again.