Bouldering Can Help Treat Moderate Depression
By Nick Harris-Fry published
A new study suggests that the social, mental and physical aspects of the sport can help alleviate symptoms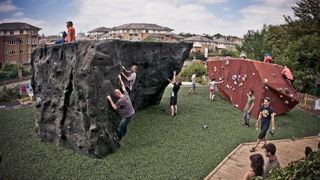 (Image credit: Unknown)
Bouldering for three hours a week can help treat depression, reducing the sufferer's symptoms from moderate to mild, according to a small study conducted in Germany.
In the study, 100 participants were split into two groups. One group immediately started bouldering – climbing short routes without ropes or harnesses – while the other waited to start the sport. The intervention lasted eight weeks, with participants bouldering for three hours a week, before a follow-up period that took the total length of the study to 24 weeks.
Throughout the period participants, who were mostly new to bouldering, were also given advice on how to build positive social interactions, and taught about mindfulness and meditation.
Within the group that started bouldering immediately, the participants' Beck's Depression Inventory scores – a widely used test for measuring the severity of depression – improved by 6.27 points, enough to see their symptoms classed as mild rather than moderate. In the delayed-start group, the improvement was only 1.4 points.
RECOMMENDED: The Best Places to Go Rock Climbing in London
There are several aspects of bouldering the team behind the study believe could help sufferers of depression. "Bouldering, in many ways, is a positive physical activity," says study lead Eva-Maria Stelzer from the University of Arizona.
"There are different routes for your physical activity level, and there's a social aspect along with the feeling of an immediate accomplishment when bouldering."
The lack of ropes and harnesses also means bouldering requires a high level of concentration if you don't want to take a tumble.
"You have to be mindful and focused on the moment," says Stelzer. "It does not leave much room to let your mind wander on to things that may be going on in your life – you have to focus on not falling."
The team behind the study believe bouldering could complement traditional care for depression. It is not being suggested that it can replace other treatments entirely.
Other physical activities like yoga and running have also been shown to have a positive effect on the symptoms of depression in the past, and Katharina Luttenberger from the University of Erlangen-Nuremberg in Germany, who co-led the study, stressed that people should try any sport they enjoy.
RECOMMENDED: How To Use Running To Help Your Mental Health
"I'd always encourage patients to do the sport they like – climbing or something else – as sport is a wonderful possibility to prevent all possible sorts of illnesses, mental and physical," says Luttenberger.
We'd definitely agree with that last point. If you're keen to give bouldering a go, you're in luck, because new centres are springing up all over the UK.
RECOMMENDED: Where To Boulder In And Near London
Sign up for workout ideas, training advice, the latest gear and more.
Thank you for signing up to Coach. You will receive a verification email shortly.
There was a problem. Please refresh the page and try again.