Where to Start Rock Climbing Outdoors
By Lucy Fry last updated
The UK is flush with climbing spots for every ability – you just have to get your feet on the wall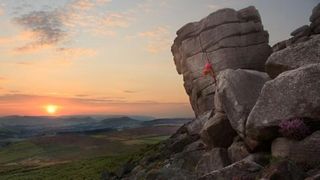 (Image credit: Unknown)
Rock Climbing Courses
The National Mountain Sports Centre (opens in new tab) in the heart of Snowdonia offers challenges no matter what your climbing level. No experience at all? Try the two- or five-day Learn To Climb courses for £195 and £600 respectively. If you have a little experience indoors and want to head outdoors a two-day course is £250 and five-day course £635.
Peak District company Pure Outdoor (opens in new tab) leads climbers on trips around popular spots like Stanage, Burbage and Millstone. For those with little or no experience there's either an outdoor rock climbing taster day or outdoor beginner bouldering course (both £85 for one day).
The Sea Cliffs and Quarries venues in Swanage and Portland are close by in Dorset and Freeborn Climbing (opens in new tab) provide specialist climbing courses along the coast, including a two-day introduction costing £150. Offers opportunities for bouldering, rope climbing and even "deep water soloing" – free climbing (with no rope or harness) on rocks that overhang the sea at heights of between 10-50 metres.
RECOMMENDED: Where to Go Rock Climbing in London
5 Awesome Climbs for Beginners
Some climbs look harder than they actually are – these five locations are suitable for those in their first six-12 months of climbing, but still merit bragging rights
Southern Sandstone
This is probably the most accessible outdoor crag rope climbing opportunity for Londoners, being located in Tunbridge Wells. The routes are accessible for all different levels, though a Rockfax guide book is recommended to help you find your feet: it has gradings, descriptions and other helpful information.
The Cuttings
Inland crags on the Portland coastline in Dorset with fantastic views, The Cuttings have high climbs on vertical rock with routes to suit all levels including a well-used beginner wall and other far more difficult routes. Sheltered enough to be climbable all year round.
Winspit Quarry
As the name suggests, this is a disused quarry, situated near The Isle of Purbeck in Dorset. Sheltered enough to allow climbers to experiment with a wide variety of routes even during the winter months.
Stanage Edge
This Peak District climb is all grit, grit and more grit. Head for The Plantation for bouldering, Grotto Slab for an easier rope climb and up the highest point, High Neb (458m above sea level), as much a pilgrimage point as a peak.
FountaineBleu
A legendary bouldering hot spot just outside Paris. It has its own unique rock formations (mostly sandstone boulders) and is full of crags and rocks that go up to 15 metres in height. Where many climbers go, a strong climbing scene also follows. Expect climbing, climbing and more climbing.
RECOMMENDED: Rock Climbing in Yosemite
Sign up for workout ideas, training advice, the latest gear and more.
Thank you for signing up to Coach. You will receive a verification email shortly.
There was a problem. Please refresh the page and try again.