Increase Your Cardio Fitness And Stamina With This Indoor Cycling Workout
By Nick Harris-Fry published
This hour-long session involves long intervals working close to flat out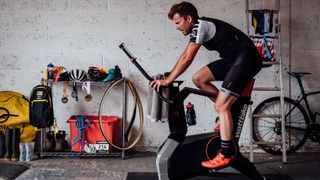 (Image credit: unknown)
As winter approaches, many keen cyclists are planning on moving their workouts indoors – and some of those who would normally go to the gym are looking for alternatives in the form of exercise bikes and turbo trainers. With a drawn-out winter ahead it's worth gathering as many effective workouts as possible to fill the months of indoor training to come, and you can add this hour-long workout from the team at Wattbike (opens in new tab) to your hoard.
The session involves five long intervals performed at a high intensity and, though you do get long rest periods to recover, it's going to be a tough hour so it's best saved for when you feel well rested and ready to challenge yourself. The benefits are worth it, though – you'll see your overall fitness and in particular your endurance increase.
The workout uses the Rate of Perceived Exertion (RPE) scale as a guide to the intensity of each part of the workout. This is more straightforward than a measure you need a tech for such as power output or heart rate, and also means that if you do attempt this workout when feeling a bit run-down, the effort you have to put in adjusts to how you're feeling on the day.
The RPE scale runs from one to 10: broadly speaking one requires almost no effort, at five you'll be breaking a sweat but able to hold a conversation, and 10 is all-out maximum effort and only possible to sustain for short stints.
If you have a Wattbike you can find more workouts like this as well as training plans on the Wattbike Hub (opens in new tab) app.
See related :
Indoor Cycling Workout
| | Time | Effort |
| --- | --- | --- |
| Warm-up | 10min | Build gradually to RPE 8 |
| Recovery | 2min | RPE 5 |
| Interval 1 | 4min | RPE 9 |
| Recovery | 4min | RPE 5 |
| Interval 2 | 4min | RPE 9 |
| Recovery | 4min | RPE 5 |
| Interval 3 | 4min | RPE 9 |
| Recovery | 4min | RPE 5 |
| Interval 4 | 4min | RPE 9 |
| Recovery | 4min | RPE 5 |
| Interval 5 | 3min | RPE 9 |
| Recovery | 4min | RPE 5 |
| Warm-down | 12min | RPE 3 |
Sign up for workout ideas, training advice, the latest gear and more.
Thank you for signing up to Coach. You will receive a verification email shortly.
There was a problem. Please refresh the page and try again.