Do This Accessible Nine-Minute Bodyweight Workout With A Friend
By Nick Harris-Fry last updated
Improve your physical fitness and mental health with this quick workout from Move Forward Gym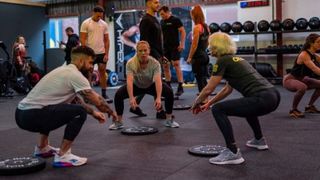 (Image credit: Unknown)
The physical benefits of exercise are the primary motivation for most people to work out, but that's far from all you get out of working up a sweat. Exercise can help your mental wellbeing, and group classes are a way of engaging with others, which can be especially helpful if you're recovering from a serious health condition.
Scott Britton is the co-founder of Move Forward Gym (opens in new tab) in Exeter, where people recovering from cancer or suffering from mental health conditions can exercise for free.
"Our Move Forward programme started around three years ago in Northern Ireland, with a simple concept of giving cancer patients who have finished their primary care more support," says Britton.
"Once you've finished your initial chemotherapy [or] radiotherapy, you get one or two physical therapy sessions on the NHS, then that's kind of it. We have a free 12-week programme for people, where they do two sessions a week, and the membership is six months long. The first 12 weeks involve intensive support with very close monitoring to check recovery, mobility, even things like sensitivity of the skin caused by radiotherapy. Once you graduate from that, you join the general Move Forward classes for another three months of free membership."
The Move Forward classes are also available through free five-week memberships to Blue Light Workers (opens in new tab) and people struggling with their mental health who have been told by doctors to try exercise as a possible treatment.
"Lots of people are dealing with negativity and uncertainty at the moment," says Britton. "The classes provide community and support with a shared target. It's a small, achievable win for the day. When people are depressed, it's very difficult to see positives, and completing our workouts gives people a chance to mark an achievement. It's also just having people you can reach out to and be with that you don't have an emotional responsibility towards, like you do with family and friends."
See related
Nine-Minute Move Forward Workout
The workouts at Move Forward are designed to be accessible, using exercises that have a lot of variations so they can be adapted to any physical difficulties people have.
"They're workouts you don't have to think about much or plan, which is a relief for people," says Britton. "People might have pent-up aggression or depression, and they can sweat it out using these classes. It's a good chance to just get your head down and push through."
At Move Forward the team element of the classes is important, so although you can do the session solo, if you can buddy up with someone it will only enhance the feelgood factor.
"With lockdown a lot of people are working out at home on their own," says Britton. "There are benefits to being in a group. We often do team workouts where the reps are synchronised with your partner, so you're watching out for each other – you squat at the same time, jump at the same time. It adds a fun element and means you can push each other."
The aim of the workout is to complete the following in nine minutes. If you finish early, the reward is to keep on doing burpees until the nine minutes is up.
Reps 30
From standing, drop your hands to outside your feet, then jump your feet back to land in a high plank, then jump your feet forwards again to your hands and leap straight up. Land softly and repeat.
Reps 30
For the lunge take a big step forwards and bend both knees until they are at 90°, then push back up. Alternate legs and do 30 reps in total, not 30 on each leg.
To squat, stand with your feet hip-width apart, bend at the knees and push your hips back to lower your body until your thighs are parallel to the ground, then push back up.
Burpee
Reps 20
Reps 30
Reps 10
Lunge or squat
Reps 30
More Bodyweight Workouts
If you're looking for more training sessions you can do at home, the following three workouts are equipment-free and just require a little space.
Beginner Bodyweight Workout
This session involves doing two tri-sets, where you do three exercises in a row with minimal rest before taking a longer break. The moves involved are well known, and you can scale it to suit your ability by doing easier or harder variations of each exercise if needed.
Workout To Improve Your Posture
This combination of exercises and stretches is designed to loosen you up after long periods at a desk, and improve your flexibility and strength. It's very quick and easy to do, and just what your body needs if you're currently working long hours at a less-than-ideal home office set-up.
Cat-cow stretch
High plank
Half cobra
Bodyweight Home Workout Plan
If you're looking for a full training plan to get in shape at home without equipment, then you'll find such a plan here (along with one that involves dumbbells, if you have those available). You'll be doing three workouts a week on the plan, rounding off each week with a tough AMRAP (As Many Rounds As Possible) session.
Sign up for workout ideas, training advice, the latest gear and more.
Thank you for signing up to Coach. You will receive a verification email shortly.
There was a problem. Please refresh the page and try again.