32 Great Outdoor Challenges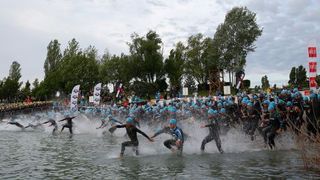 (Image credit: unknown)
Had enough of beach holidays and city breaks? Whether you're looking for a one-day activity or want to spend weeks on a serious test of your fitness, there's something for you in this list of extreme (and not-so-extreme) challenges.
With a little training – or in some cases no training at all – everyone will be able to tackle the beginner challenges on the list, but if you fancy one of the advanced or extreme challenges then it's going to take some serious preparation and, in the case of the extreme adventures, probably a fair chunk of your annual leave. Whichever challenge you opt for, however, you can be sure you'll have a great experience and undoubtedly get a little fitter at the same time.
Obviously, the COVID-19 pandemic has played havoc with mass-participation events and international travel, but these delays mean you have no excuse for not being prepared once you are able to attempt a challenge.
Beginner Outdoor Challenges
1. Cycle Up Bealach Na Bà
This winding mountain road in the Applecross Peninsula in north-west Scotland is the biggest climb you'll find on British shores, ascending 626m from sea level over the course of just 9km. It's scored as 11/10 in terms of difficulty in 100 Greatest Cycling Climbs (opens in new tab) by Simon Warren, the only rating above 10 on Warren's list of the toughest British ascents. In short, it's a challenge that should be on every cyclist's bucket list, perhaps as part of the annual 145km Bealach Mor sportive (opens in new tab). cyclinguphill.com/100-climbs/bealach-na-ba/ (opens in new tab)
2. Swim From Nevis To St Kitts
The Narrows is the strait between the islands of Nevis and St Kitts in the Caribbean and every year a couple of hundred people swim the 4km of open water between Oualie Beach on Nevis and Cockleshell Beach on St Kitts as part of an organised event. Taking on that distance in the sea is no small feat and beginners are encouraged to use training fins to make it easier, but it's a truly beautiful stretch of water to be in, and getting to spend time on a Caribbean island before and after is no great hardship either. nevistostkittscrosschannelswim.com (opens in new tab)
3. Finally Learn How To Surf
Surfing should be great fun, but in reality you'll often spend most of your time waiting about, missing good waves and then getting unceremoniously dumped in the wash when one does finally arrive. The new, multi-million pound Surf Snowdonia is the world's first artificial inland surfing lagoon, consistently churning out perfect rides that run for 150m. We had always struggled to stand up on a board, let alone make it to the end of the wave, but managed it in an hour or so here. Highly recommended. adventureparcsnowdonia.com (opens in new tab)
4. Rough It In The Woods
He might be a tad more familiar with hotels than he originally let on, but Bear Grylls still knows his stuff in the survival world. These hands-on courses, designed by the man himself, range from a single night in the British countryside to a five-day masterclass in Zimbabwe. beargryllssurvivalacademy.com (opens in new tab)
5. Compete At Tribal Clash
Europe's biggest team fitness event is a CrossFit-style competition with a tremendous atmosphere that's spread over two days in September on the Devon coast. Camping right on the golden beach and waking up to the sounds of the sea, you and more than a thousand amateur athletes will spend two days chucking logs, flipping tyres and hammering out pull-ups against the clock. tribalclash.com (opens in new tab)
6. Reach New Heights In Germany
Indoor climbing is a brilliant way to keep fit, but nothing beats heading out and doing it for real. The world-famous spot Frankenjura in Bavaria has over 8,000 established routes, including nearly 300 graded for beginners. There are a variety of route lengths, so there's something for everyone in this land of limestone crags and picture-perfect forests. climb-europe.com (opens in new tab)
7. Go White-Water Rafting
You don't have to head Down Under to get the thrill of hurtling along on an inflatable dinghy – but the Tully River in Cairns, Australia, is regarded as the best place in the world to give it a go. It encompasses 44 rapids winding through a World Heritage rainforest, complete with huge waterfalls and dramatic gorges, nearly all of which are suitable for people who've never even picked up a paddle before. raft.com.au (opens in new tab)
8. Take The Bull By The Horns
As far as physical challenges to tick off the manly bucket list go, this takes some topping. The Rodeo Bull Riding School in Houston, Texas, is run by one of the world's best rodeo cowboys and promises to teach you all aspects of the sport, before letting you loose on the real thing. We can't find anything on its site that states we definitely won't get gored, though. Reassuring… greatamericandays.com (opens in new tab)
9. Run The Ragnar Relay
Running is just part of the challenge of this 273km relay race around the south coast of England, as your team of ten also has to fight fatigue over the event's 24-hour period and navigate the route in support vans. Each team member has to tackle three legs of the route between Maidstone and Brighton, with the total distance covered ranging from 19 to 35km depending on which set of legs they choose to run. If you really want to up the challenge, you can tackle the Ragnar Relay in a team of just five, doubling the distance each person has to cover. runragnar.com/uk (opens in new tab)
10. Swim Between Two Castles
The RNLI Castle 2 Castle Swim sees 450 swimmers (and no more, so don't delay your entry) complete a one-mile (1.6km) open-water swim across the Carrick Roads estuary in Cornwall. The two castles in questions are Pendennis Castle in Falmouth, where the event starts, and St Mawes Castle on the Roseland Peninsula. The event boasts a fun and friendly atmosphere, and costs £25 to enter, though you're also expected to raise at least £50 for the RNLI. rnli.org (opens in new tab)
See related
Advanced Outdoor Challenges
11. Complete George Fisher's Tea Round
Named after the George Fisher store it starts and finishes at, this 30-mile (48.2km) route around the Lake District involves summiting the 10 fells you can see from the top floor of the store, climbing almost 12,000ft (3,657m) in the process. You can run or walk the route either clockwise or anti-clockwise, and finishers are rewarded with some goodies from Montane, which sponsors the Tea Round, and a cup of tea and a slice of cake in the George Fisher store. georgefisher.co.uk/pages/george-fishers-tea-round (opens in new tab)
12. Take On Ten Y Fan
A true test of anyone's mettle taxes mind as well as matter and this climbing challenge places both your body and brain under significant stress. If you know your Welsh mountains, you will have already guessed what this challenge entails. For everyone else, it's climbing Pen Y Fan ten times. In 24 hours. The 886m Brecon Beacons peak is the highest in south Wales but it's not exactly K2, so your first climb may very well be a breeze – but it will only get trickier. You'll have to cope with the tempestuous Welsh weather as well as the setting of the sun (providing there is any). Take extra care to follow the safest route, but one that allows you to reach the summit in sufficient time. 10yfan.com (opens in new tab)
13. Swim A 10K
The UK's first open water 10K event, The Dart, is an incredible journey down south Devon's Dart estuary. Making your way along a river with 1,600 other swimmers is an experience like no other. And because this isn't a race (everyone takes it at their own speed), you don't need to worry about getting accidentally kicked in the face or swum over by screw-faced competitors. outdoorswimmingsociety.com/dart-10k (opens in new tab)
14. Go Heliskiing Or Heliboarding
Getting taken up a mountain by helicopter isn't just a fancy way to skip the ski-lift queues. You'll get dropped off in pristine, untouched powder before making your way down on a route untouched by anyone else that day. It's not just for 80mph black run bombers, either – in Whistler, Canada, while there are trips for gnarly adrenaline junkies, total powder novices are catered for too. whistlerheliskiing.com (opens in new tab)
15. Race The Scotland Coast To Coast
Use your feet, pedals and paddles for 169km as you run, cycle and kayak from one side of Scotland – which is certainly not the world's flattest country – to the other. The race starts at Nairn on the east coast and heads south west to the finish past Fort William, taking in Loch Ness along the way. It's a two-day event, although the brave (and exceptionally well prepared) can attempt it in one day. ratracecoasttocoast.co.uk (opens in new tab)
16. Escape From Alcatraz
In its 29 years as the world's most infamous maximum-security prison, no-one ever escaped alive from the shores of Alcatraz. Now, each June, 2,000 of the world's best triathletes assemble in San Francisco to try. To be fair, security isn't what it was, but this triathlon with a brilliant novelty factor is still a gruelling affair. A 2.4km swim through frigid waters from Alcatraz Island to shore is followed by a 29km bike leg, then a 13km run through the rugged trails of Golden Gate Recreation Area. Set against the famous skyline of San Francisco, it's little wonder the event draws over 20,000 spectators. escapealcatraztri.com (opens in new tab)
17. Cycle Mont Ventoux's Three Ascents
Lance Armstrong called Mont Ventoux "the hardest climb in the Tour de France". But the Tour only ascends it once – the real challenge is to cycle up all the mountain routes in a day, racking up a Herculean 4,443m of ascent and 68km. You can face winds of 100km/h or more near the summit. cycling-challenge.com (opens in new tab)
18. Learn To Kitesurf
One big, fat, undiluted serving of adrenaline, this. You can learn to harness wind power on the water pretty much anywhere these days, and KiteWorldWide offers package holidays with lessons in both easily accessible (Spain) and far-flung (Brazil) locations. Blow as much of your holiday time on it as you can, because it's not especially easy to pick it up, but once you do, hoo boy, you'll feel like you're flying. kiteworldwide.com (opens in new tab)
19. Ice Climb Ben Nevis in Winter
Britain's highest summit is a straightforward hike in normal conditions – but in winter, covered in ice and snow, it's a different beast. There are routes of all lengths and difficulties; make sure you have the necessary skills or go with an experienced guide. visitfortwilliam.co.uk (opens in new tab)
20. Cycle Across England
Around 13,000 people cycle coast to coast in England each year – the challenge is to complete it in a weekend. The traditional route starts at Whitehaven on the west coast and ends at Tynemouth, taking in the Lake District. The vast majority of the route is quiet country roads, cycle paths and off-road trails, so there's plenty of scope to let loose. Going west to east takes advantage of prevailing winds, as well as short uphills and long downhills. c2c-guide.co.uk (opens in new tab)
Extreme Outdoor Challenges
21. Run Britannia
This challenge certainly falls into the extreme category, so much so that you're getting over two years' notice about it so you have adequate time to prepare if it does tickle your fancy. Run Britannia 2024 takes place in June and involves running the length of Britain, completing a 1,000-mile (1,609km) route from Land's End to John o'Groats. The event is organised by Rat Race, which has picked out a runner-friendly route that avoids the biggest roads and includes some of the country's most scenic walking trails, although that does mean you'll be racking up 70,000ft (21,336m) of climbing along the way. There are only 40 spots available in the challenge, and the 2023 event sold out in less than six hours, so if you are keen to take on Run Britannia in 2024, it's worth signing up to be notified when places are available. One last thing to note is that it's a very expensive event at £6,950, so you might need to use that two years' notice to do some saving. ratracerunbritannia.com (opens in new tab)
22. Cycle From London To Edinburgh... And Back
Pedalling all the way from London to Edinburgh is a challenge most of us would be very proud of achieving once in our lives, so the idea of reaching the Scottish capital, turning around and racing all the way back to London really takes it to an extreme level. The 1,500km London-Edinburgh-London ride is one of the toughest self-supported events in the UK, and it's only put on every couple of years, the next event being in 2022. If you can't wait, forgo the 13 support points provided by the organisers and do it yourself. Oh, and by the way, you only have 125 hours in the official event to complete the 1,500km, just because doing it slowly would be too easy. londonedinburghlondon.com (opens in new tab)
23. Walk The Great Himalaya Trail
Everest Base Camp Trek too soft for you? The new Great Himalaya Trail is the small matter of 1,700km and, as the name suggests, it traces the world's highest mountain range. The trail's a work in progress but is planned ultimately to stretch from the perilous mountain of Nanga Parbat in Pakistan through India, Bhutan and Nepal to Namche Barwa in Tibet, clocking up 4,500km. It currently passes eight of the world's 14 peaks over 8,000m, including Everest, and goes as high as 6,000m, with a total ascent of 150,000m. It visits some of Nepal's poorest areas, where tourism can make a real difference. This is no holiday jaunt: plan for something like 150-160 days. greathimalayatrail.com (opens in new tab)
24. Walk The South West Coast Path
The Pennine Way may be more remote and muddier, but the South West Coast Path is England's longest National Trail. The 1,014km route starts in Minehead, Somerset, and follows the wild coast around Devon and Cornwall into Dorset, finishing in Poole. To walk it in one go you'll need a couple of months, but you can tackle its tough ascents one at a time for a satisfying hike. While the coastal weather doesn't always smile on walkers, the scenery is outstanding – the path has sections designated Area of Outstanding Natural Beauty, Heritage Coast and World Heritage Site. southwestcoastpath.com (opens in new tab)
25. Race The Ironman 70.3 Pays d'Aix
The idea of a half Ironman is much less intimidating if you take part in one somewhere bright and sunny rather than grey and gloomy. The Ironman 70.3 Pays d'Aix – a qualifying race for the Ironman 70.3 world championship – takes place in the city of Aix-en-Provence, which apart from its promise of sunshine has a reputation as a training mecca for French cyclists and triathletes. Competitors swim 1.9km, cycle 90km and run 21km, with the bike ride the most challenging part and not just because of the distance. The course includes the famous mountain pass in Provence, around Mont Sainte-Victoire, immortalised by the painter Paul Cézanne. The road isn't in good condition and there are some long, torturous ascents. ironmanpaysdaix.com (opens in new tab)
26. Run The Ultra Trail du Mont Blanc
Why? It's simply the most challenging foot race in Europe. The 166km trail loops the Mont Blanc Massif, with a total height gain of 9,500m. Competitors must carry all their requirements and while super-athletes finish in around 20 hours, most runners take 30 to 45 hours – that's if they finish at all. Shorter races and a team 300km are also available. ultratrailmb.com (opens in new tab)
27. Climb The Inaccessible Pinnacle
There are 283 Munros – Scottish mountains higher than 3,000ft (914.4m) – and Sgurr Dearg on the Isle of Skye is by far the hardest to climb. That's because while the rest of the Munros are trekking peaks, the 986m Sgurr Dearg – tellingly known as the Inaccessible Pinnacle – requires rope, rock-climbing skills and plenty of courage. The usual ascent is along a long ridge, involving a vertical climb of 50m, including two roped 30m pitches. visitscotland.com (opens in new tab)
28. Walk The Pennine Way
This is the classic long-distance trail in the UK. The record for the 431km stomp along the backbone of England is a maniacal two days, 17 hours and 20 minutes, although most mortals will take 16-19 days. The trail leads from Edale in the rugged Peak District through the Yorkshire Dales, along Hadrian's Wall to the giant Cheviots and the Scottish border. Although notorious for foul weather and treacherous peat bogs, the Way has the wildest and best upland walking in England. It was too tough for arch-rambler Alfred Wainwright: "You won't come across me anywhere along the Pennine Way," he said. nationaltrail.co.uk (opens in new tab)
29. Climb The Matterhorn
Few European peaks are more infamous than the Matterhorn, the mountain that lies between Italy and Switzerland and rises to 4,478m with four steep faces. It was the last great Alpine peak to be climbed, the ascent marking the end of the golden age of alpinism. It's also one of the deadliest peaks in the Alps: from 1865 to 1995, 500 climbers died on it. You'll need some experience and a knowledgeable guide to climb it. The summit day itself is long, with up to 4,500m of tricky scrambling, and requires commitment and concentration for eight-plus hours. mountaintracks.co.uk (opens in new tab)
30. Paddle From Devizes To London
The Devizes Westminster International Canoe Marathon, the longest nonstop canoe race in the world, goes 200km from sleepy Wiltshire up the Thames to Westminster and requires about 30 hours of hard work. Training is essential to complete the race: "many 'fit' people have turned up to take part," the organisers say, "but most collapse and fail within a few hours." Paddling through the night, fighting exhaustion and mental fatigue, is a real test of fitness and character, and finishing in under 24 hours is seen as a good time. The intensity of training required is said to be the closest you can get to Olympic training. dwrace.co.uk (opens in new tab)
31. Walk The Grande Randonnée 20
There's a network of over 100 Grande Randonnée (French for "great trek") footpaths all over western Europe – and Corsica's GR 20 has a reputation for being the toughest. The 180km route includes some scrambling, high winds and occasionally snow, but the pay-off is spectacular views. It takes most people about 15 days. le-gr20.com (opens in new tab)
32. Run the 6633 Ultra
The organisers claim Canada's 6633 Ultra race, which enters the Arctic Circle, is "the toughest, coldest and windiest extreme ultramarathon on the planet". It's hard to disagree – it's a nonstop, self-sufficient foot race over a distance of 563km. Competitors carry their provisions or pull them on sleds, including food, cooking items, clothing, sleeping kit and safety gear. The race starts at Eagle Plain, a solitary hotel and fuel stop in the northern Yukon (aka the middle of effing nowhere) and ends at the Arctic Ocean at Tuktoyaktuk. Racers are allowed two drop-bags, plus checkpoints are spaced between 42 and 113km apart. 6633ultra.com (opens in new tab)
Max was the head of digital content for Men's Fitness which worked alongside Coach between 2015 and 2019.
Sign up for workout ideas, training advice, the latest gear and more.
Thank you for signing up to Coach. You will receive a verification email shortly.
There was a problem. Please refresh the page and try again.