Ant Middleton On How He Almost Died Climbing Mount Everest
By Nick Harris-Fry published
"I asked myself 'am I willing to lose a couple of toes?' And the answer was yes"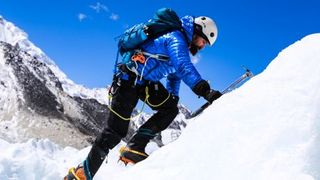 (Image credit: Unknown)
Here's something I didn't know before I spoke to Ant Middleton about his attempt to climb Everest: there's a queue to get off the summit of the highest mountain in the world. Yes, even at 8,848m, well over 200m higher than anywhere else on the planet, you have to deal with queues – but at that height having to wait around can be deadly.
Until he reached Everest's peak Middleton's expedition, which is the topic of new Channel 4 documentary Extreme Everest, had been going well. He had summitted the mountain in good conditions, but the weather quickly turned on Middleton and the other climbers there.
"It was strange. I remember at the Hillary Step [a vertical rock face near the summit of Everest] the weather was good," says Middleton, "then getting to the summit, looking around and there was no view whatsoever. The cloud starting coming in.
"The weather was really changing and I thought I could be in a bit of trouble. Everyone was starting to leave the summit. I got sidetracked and thought, 'If everyone leaves I'm going to stay and actually be the highest man in the world. It's only a couple of minutes, let them go.'
"Then leaving the summit the winds were really bad and it was a whiteout. No matter how much you try to cover yourself up, the winds are whipping from every direction and the snow that's being whipped up is so fine it finds its way down the back of your neck, into your summit suit. You can't keep it out. I walked into the back of someone, hit this traffic jam on the summit ridge. Ten to 15 people isn't a big queue compared with what they have on Everest normally, but I was at the back. I realised the magnitude of what happened. When the storm came people were sitting there not doing anything. Their confidence had gone. I went from 'I'm going to be the last person standing on the mountain' to 'am I going to get off the mountain?' It was a fight for survival, every man for himself."
While Middleton was waiting to descend, disaster struck. A climber ahead of him fell and was left hanging from his rope, blocking the route to those behind him and forcing the climbers to make a grim decision.
"The guy who fell off the mountain was in front of me and delayed us by another hour while they tried to rescue him," says Middleton. "They were that close to cutting him off the mountain so myself and another sherpa could get through. He's there on the rope and a couple of us die, or we cut him off and we can get down.
"He was falling in and out of consciousness. I thought there's no way in a million years he's going to get up. It got worse and worse, we were getting colder and colder. How he managed to position himself so the sherpa could pull him back up, I'll never know."
The situation continued to deteriorate as Middleton made his way back down.
"The sequence of events that happened, you couldn't write," says Middleton. "This guy they were going to cut off the mountain, then he managed to get back on his feet. Then we walked off the ridge down to the south summit and on the way there was a sherpa stuck there with no oxygen. We tried to drag him off but he wasn't moving, too far gone. I then ran out of oxygen. My sherpa team had got split up with the cameraman, they were halfway down the mountain – it was just an utter disaster.
"Everything that could have gone wrong, went wrong. I had that split second thinking I was done, I couldn't possibly get off the mountain. But then I thought 'You're alive, Ant, and you need to find a solution'.
"The number one rule is keep moving, or you're going to die. I kept passing that message on as well."
I asked Middleton whether it was a difficult change in mindset from his time in the armed forces to go into full-on self-preservation mode on the mountain. It's fair to say the former Special Forces man was left unimpressed by some of the climbers he saw on Everest.
"In the armed forces everyone's capable," says Middleton. "You wouldn't put anyone else at risk – you're capable and confident and know what you're doing. When you've got people who pay tens of thousands to get dragged up the mountain, you take away that self-responsibility when the shit does hit the fan.
"The sherpas are not mountain rescue guys. They're there to help with the kit and they acclimatise quicker, but they have got their own lives. That's why climbers do get left on the mountain – they don't realise above a certain point you are accountable for your own life. The helicopter isn't coming up there, the sherpas need to get down.
"You look at the altitude and the weather that comes in, and you add in incompetent climbers – you have a recipe for disaster. You're doing a climb which is quite technical, where there is only one way on and off, and you've got to hold yourself accountable. That's the nightmare commercial side of Everest. There's an ice wall and people get dragged up it by their sherpas. And it's like, 'What are you doing on the mountain mate?!'
"You can't just trek up, you have to climb Mount Everest to the summit. If you want a trek, go from Lukla to Base Camp, because otherwise you will come unstuck, and when you do you'll not only kill yourself but also kill other people."
See related
Middleton's summitting of Everest took a heavy physical toll, with his feet bearing the brunt of the damage. He recalls first noticing that he couldn't feel his toes long before he even made it to the peak.
"I can remember getting to The Balcony [a small platform at 8,440m where climbers can rest] after a couple of hours of climbing and I literally couldn't feel my feet. You try and kick the snow but your feet either warm up or they don't. I asked myself, 'am I willing to lose a couple of toes?' And the answer was yes.
"I thought I can't turn back around and not summit, then have people ask 'Why did you turn around?' Cold feet?! There's no way in a million years I was going to do that! I just had to take the gamble."
Middleton had set out for Everest with the aim of testing himself, and he certainly came away under no doubt about the power of nature.
"I wanted the full force of Everest," says Middleton. "I didn't want to go on the mountain and have a jolly old time up there. I wasn't there for the views. I was there for the mountain to test me and push me. Be careful what you wish for!
"It's fuelled my desire for adventure even more, but also it's made me realise how vulnerable we are and that we can't control everything. Being in the situation where I feared for my life and there was nothing I could do about it… it made me feel half a human, almost."
Extreme Everest with Ant Middleton, in association with Berocca, airs on Sunday 11th November at 9.30pm on Channel 4
Sign up for workout ideas, training advice, the latest gear and more.
Thank you for signing up to Coach. You will receive a verification email shortly.
There was a problem. Please refresh the page and try again.