Why Urban Surfers Catch Better Waves
By Nick Harris-Fry last updated
London DJ Sam Supplier explains the advantages of living in a city and chasing waves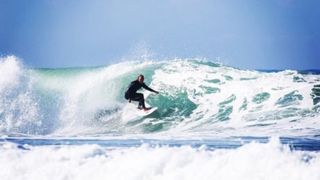 (Image credit: Unknown)
If you've watched any of the great surfing films, Point Break, Point Break 2: Point Breakier or the recent Point Break remake, you will have noticed one thing straight away – none of them is set in London.
That's because surfing on the Thames is just terrible. The same goes for most UK cities and their rivers. So despite the fact that surfing is a fun, healthy and undeniably cool way to spend your time, most city-dwellers will never take it up on the grounds that it is logistically a bit of a faff.
To counter this point of view, we enlisted Rinse FM DJ and dyed-in-the-wool Londoner Sam Supplier to discuss his love of surfing and show that it's something that anyone can do. With a bit of travelling. We'll admit that right off the bat.
How did you get into surfing?
It was from going on holidays as a kid down to Cornwall, to a small town called Porthtowan, and then as I got a little bit older – 13 or 14 years old – to the Gower in Wales, in a place called Rhossili Bay.
Have you been surfing ever since?
When my music career kicked in at the age of 17 or 18 I kind of stopped. I always felt that I was still a surfer but I didn't really surf very much. Then in the past few years I've got back into it massively. In the past it wasn't as easy to surf in December and January, whereas now the technology in the wetsuits means you can surf all year round.
What sparked you getting back into it?
I DJed in Tenerife and just hired a surfboard. I got back into the water and realised what I'd been missing out on. I was absolutely hooked. Hooked!
How do you fit it into your working routine?
Being a DJ my weekends are Mondays and Tuesdays because I work all over Europe on the weekend. I just jump in the car and go and find some waves – there's an app called Magic Seaweed (opens in new tab) and it gives you a five-day forecast so you can look where there's going to be waves anywhere in the world.
Where are the best spots near London?
If you're really desperate there's one called Joss Bay just past Margate – you can get there in about an hour and a half – but that's a not a great spot. I think it's worth spending a bit more time travelling to get down to the Gower. That's about a three-hour drive.
So it's fair to say London isn't a surfing hotspot?
Actually there is an advantage to being a London surfer. I seem to always get good waves because I'll travel to where the waves are. If you live in Cornwall and there are no waves you're not going travel all the way up to Scarborough or wherever.
How do you store surfing equipment in a city flat?
My north London flat is your typical minimalist modern flat, but somehow I've managed to store four surfboards in my bedroom. I've got two under the bed and two in my wardrobe. All hidden away.
So there are always ways.
Yeah, it can be done! And my airing cupboard is full of wetsuits.
Is that all the gear you need?
Yeah, basically a wetsuit and board, and then I've got a couple of big travel bags for the boards. There's not a great deal you need – apart from the space to keep a couple of surfboards in your house.
What tips have you got for beginner surfers?
Get a lesson straight away, even if it's just one lesson, to show you the fundamentals. Normally the lessons are around £20-£25 and it'll be for two hours, including the board and wetsuit. You'll then find that you enjoy it a lot more, rather than spending time wondering what you're doing wrong.
The great thing with surfing is that it doesn't matter how good you are, because you still get the same buzz. Whether it's the first time you lie down and catch the white-water part of the wave, or the first time you manage to stand up, or the first time you manage to stand up all the way to the beach. When you've been doing it as long as I have it's the biggest wave I get, or a big turn I do on it. You still get the same buzz from it, no matter how good you are. That's why it's a fantastic sport.
And to be clear, you can surf in the UK in the winter without freezing?
Yeah, modern wetsuits are fantastic. You can go all year round. In the UK in the winter you'd also wear boots, gloves, a balaclava, but it's doable. You can still surf for a couple of hours.
Sam Supplier's new single "Night And Day" is available now on Spotify (opens in new tab) and has a full release on 8th September
See related
Sign up for workout ideas, training advice, the latest gear and more.
Thank you for signing up to Coach. You will receive a verification email shortly.
There was a problem. Please refresh the page and try again.