The Mambo Brothers Guide To Ibiza's Best Activities
By Nick Harris-Fry published
Hike, climb, dive and kayak in the party capital of Europe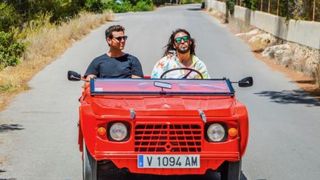 (Image credit: unknown)
Many people have only one real purpose when they head to Ibiza on holiday and it's fair to say that purpose is not healthy outdoor pursuits. However, while the clubbing in Ibiza is an unrivalled experience, there is more to the Balearic isle than its nightlife.
Born and raised on Ibiza, Christian and Alan Anadon know as much about the island as anyone. As the first Ibiza-born DJs to head up a residency at an island super club – Hï – and sons of the founder of Café Mambo, they are an established part of the clubbing landscape, while their love of sport means they are well-acquainted with the many outdoor activities Ibiza has to offer.
RECOMMENDED: The Alternative Ibiza Summer Holiday: Sailing In The Balearics
We're sure you can get plenty of advice on clubbing in Ibiza elsewhere, so we enlisted the Mambo Brothers for their advice over email on the best outdoor activities to try in Ibiza.
Deep Sea Diving
There are so many diving schools in Ibiza where you can pick up a qualification or at least get a brief baptism in the sport. We use Arenal Diving (opens in new tab) if we are diving along the west coast around San Antonio.
It's a really relaxing day out at sea and there are some great spots to explore. We love diving at Ses Marmalades, a small island where there's a huge natural rock archway and the water underneath it is incredible. You can get these amazing contrasts of light and colours – sometimes it looks like you're literally diving into heaven!
The visibility in Ibiza is excellent. Even other places around the world that are known for diving don't have the 30-40m visibility you have in Ibiza!
Hiking
There are all kinds of different routes you can do, from coastal walks to inland countryside walks, as well as some more challenging ones where you have to climb rock faces. If you don't fancy the idea of hiking on your own, there is this company called Walking Ibiza (opens in new tab) which has organised group walks every week.
We did a 30km walk from the Egg landmark in San Antonio all the way up to San Josep with them, passing by all the major beaches along the west coast, and we got to see the impressive home of the guy that owns Cirque Du Soleil [Guy Laliberté]. We also got up to the highest point on the island – there are really great views up there. It's a great day out and the perfect excuse for a couple of cold beers afterwards!
Cycling
This is another one of our favourite sporting activities here in Ibiza, especially on mountain bikes. During the winter we get the time to get out and do it more often. Ibiza has a lot of 100- and 200-year-old roads that no-one uses any more but they still get you everywhere.
Taking these old roads and pathways means you're probably going to bump into some of the amazing little old traditional Ibiza homes that we call fincas – they can be hundreds of years old. You also get to see loads of local goats, chickens and other animals running wild.
The smell of the Ibiza countryside is pretty special. You'll always get a whiff of the pine trees blended with the local herbs like rosemary and thyme that grow everywhere. If you can't bring a mountain bike, you can easily rent good ones in San Antonio.
Kayaking
This is a phenomenal way to enjoy ibiza, seeing all the secret hidden coves along the coast where some of the pirates used to hide their stolen treasures! A real favourite is starting from Cala d'Hort and heading out to Es Vedra – the views there are just pure magic and it will definitely keep you fit. Bring your arms!
Sign up for workout ideas, training advice, the latest gear and more.
Thank you for signing up to Coach. You will receive a verification email shortly.
There was a problem. Please refresh the page and try again.