The Alternative Ibiza Summer Holiday: Sailing In The Balearics
By Nick Harris-Fry published
Looking for sun, sand, surf and plenty to do? Try seven days on a boat circumnavigating the party capital of Europe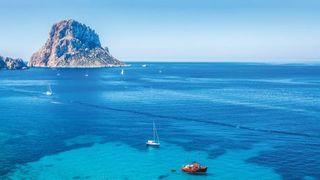 (Image credit: unknown)
When planning an active holiday, Ibiza is not a location that's likely to be near the top of too many people's lists, unless the desired activities include dancing, carousing and general late-night mayhem.
However, there is more to the Balearic isle than the beats. Head for the water rather than the West End and there's a host of activities to enjoy – swimming, stand-up paddleboarding, sea kayaking, hiking, running, cycling and, of course, sailing. To get to grips with the other side of Ibiza, Coach signed up for a Topdeck sailing trip (opens in new tab).
Topdeck's Ibiza Sailing
Although you make regular forays onto dry land, the boat really is your home on Topdeck's Ibiza trip, and it takes a day to get used to the quirks of life on the sea. Mostly this involves keeping cupboards closed and trying not to crack your skull on low ceilings, but there's also a whole load to learn about bathroom engineering in particular. We won't spoil the surprise, but be prepared to pump.
There are two boats on the Ibiza excursion, and you'll be sharing yours with just a handful of fellow travellers. Space is tight, but you're likely to be sharing said space with some like-minded people, and a major part of the appeal of the tour is turning shipmates into new friends. We certainly found that after a few drinks the social peacock inside us all was on full display ("peacock" became an in-joke on Coach's trip – see? Friends!).
No activities are forced upon you on the trip – aside from sailing, and you don't have to do anything towards that – but you'd be a madman not to get involved when the opportunity to swim, cycle or sea kayak arises.
The locations are, without fail, beautiful. Straight-from-a-postcard beautiful. The water is warm, clear and welcoming (unless there are jellyfish, which turned up from time to time, especially around Formentera). Every moment spent below deck is a moment wasted.
To refuel after all these worthy endeavours, you have the opportunity to sample some of the island's best restaurants when you step ashore in the evening. You don't even need to feel guilty when you ladle your fifth serving of paella onto your plate, as it's all part of the famously healthy Mediterranean diet… right?
For those anxious to hit at least one superclub before leaving, you'll still get your fix. Despite spending most of our time engaging in healthy pursuits, we also had the chance to sample Ibiza's hedonistic side on certain nights. Just be aware that dismounting the dinghy to get back on the boat after a night on the tiles can be… tricky.
Swimming
Given the dazzling nature of the water around you at all times, you'll be desperate to dive in at every opportunity, with only the aforementioned jellyfish and threats of the boat leaving you behind likely to keep you on board. A lot of the time you're moored away from the shore, so the water will be too deep to stand in. This means two things: one, that there are far more fish than you get near the beach, and two, that you'll knacker yourself out treading water.
Sea Kayaking
The stand-out activity of the trip – make sure you take to the waves in a kayak for a closer look at the coves and beaches around the island's coast. Even if you only end up kayaking to yet another excellent beach for a swim, it's undoubtedly worth grabbing a paddle any chance you get.
Cycling
When the Topdeck boats dock at the neighbouring island of Formentera, you get a chance to rent out a bike to explore the area. As you might have guessed, this largely leads to you finding more impressive beaches, but you also whizz past some impressive salt flats, which often feature flamingos.
Hiking And Running
If you fancy feeling solid ground beneath your feet, there are plenty of opportunities to take the dinghy in to the coast and explore. Keen runners should pack their trainers, as the skipper on our boat was happy enough to take people along on his morning runs.
Sailing
You're on a boat most of the time, so what better way to spend your time than shadowing the skipper and learning how to sail? It's almost certainly going to be a more enjoyable experience in the Mediterranean sun than at a weekend course in Docklands.
Stand-Up Paddleboarding
If swimming, kayaking and sailing don't float your boat, then you can always opt for stand-up paddleboarding instead. It's surprisingly relaxing, gently steering yourself through the water on a paddleboard. Right up until the moment you misjudge a turn and fall in.
RECOMMENDED: Try Stand Up Paddleboarding In London
7 Day Island Sunchaser trip, Sunday-Saturday between May-September 2017. Price from £695. Includes: accommodation, breakfasts and lunches (except breakfast on the first day and lunch on the last day). Topdeck has a no tipping policy. Excludes flights, dinner and alcohol. topdeck.travel (opens in new tab)
Sign up for workout ideas, training advice, the latest gear and more.
Thank you for signing up to Coach. You will receive a verification email shortly.
There was a problem. Please refresh the page and try again.