Why Canoeing In Canada Is The Perfect Active Holiday
By Nick Harris-Fry published
If you're looking for an adventure in stunning natural surroundings, you can't get much better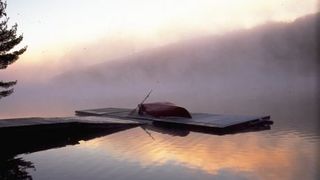 (Image credit: unknown)
Canada celebrates its 150th birthday in 2017, but the True North's relationship with the canoe goes back much further than that. In a country full of lakes and rivers, paddling was often the most effective way for First Nations (Canada's indigenous peoples) and early European explorers to get around, and the canoe was a key vehicle in the fur trade. For further reference, see The Revenant (not the bit with the bear).
There is so much water in Canada that you can traverse almost the entire width of the country in a canoe and the longest stretch you'll have to portage (carry the canoe) is just 22km. Sure, that's a long way to carry a canoe, but given the thousands and thousands of kilometres you'll be travelling in total, it's a drop in the ocean.
All this makes Canada one of the best places in the world for canoeing, and the province of Ontario offers plenty of great locations to start paddling. To sample the varied delights of Ontario's waterways we visited the Kawarthas Lakes before heading further north to take some lessons at the Madawaska Kanu Centre.
Kawarthas Lakes
Ontario's Kawarthas Lakes, a couple of hours north of Toronto, are in the heartland of canoeing in Canada – with the Canadian Canoe Museum located in nearby Peterborough – so it made a fitting place to begin my canoeing adventure. I lodged at the family-owned Elmhirst Resort on the shores of Rice Lake, a large expanse of calm and shallow water pockmarked with tiny islands.
Our first trip on the water was in an eight-man canoe, where the latest generation of Elmhirst sons – Henry – took the rudder (a good thing too as it soon became evident that the hardest part of canoeing is going in the right direction). Having seven other paddlers on side was also a good introduction to the physical demands of canoeing, as you can easily take a break without slowing the boat.
Trips around the interconnected lakes of Kawarthas are a superb way to start canoeing, especially as the shallow water is pretty warm, so any capsizes should be a relatively pleasant affair.
I also paid a visit to the Canadian Canoe Museum (opens in new tab), which offers the opportunity not only to have a go on a kayaking machine hooked up to a TV that shows your progress via an onscreen avatar (this should be in every gym in London), but also taught me how to make my own paddle. Only a miniature one, due to time and draconian customs regulations, but for someone who never exactly excelled at DT at school, it was a thrill.
Elmhirst Resort accommodation starts from $220 (around £134) per night based on two adults sharing. elmhirst.ca (opens in new tab)
Madawaska Kanu Centre
The real water work began at the Madawaska Kanu Centre. Set in a secluded spot three hours west of the capital Ottawa and free from many of the trappings of modern life (although, impressively, it does boast a sauna), the centre offers canoeing courses from April to September.
Two-man canoes were the order of the day in Madawaska. First I paired up with a fellow amateur for a session on Mud Bay (beautifully clear, despite the name); the next morning saw me teaming up with a pro and taking to the rapids of the Madawaska River.
There was a lot to learn in limited time, most of it to do with how to steer the canoe which is hard, verging on the impossible. No matter how often we lined up our canoe perfectly with our intended destination, it veered off course almost the second our paddles entered the water and we started gently revolving. This was on the entirely placid Mud Bay. Apprehension of the next day's trip to the rapids grew tenfold.
Those fears only grew after a stern morning briefing on the various dangers we would face on the river and some more drills. One of the final drills was a hard slap on the water with the paddle, designed to act as a last-ditch attempt stop the boat overturning. To practise this, we had to tilt the boat quite a long way to one side. I looked around at my fellow paddlers barely touching the water as they practised their rescue slaps, scoffed at their lack of commitment… and lurched wildly to the side.
As the instructor shook the last water from our overturned canoe, I tried to figure out what I could have done differently. I could perhaps, have copied my classmates, none of whom capsized at any point, but, as they say, hindsight is always 20/20.
Once back on board we continued to practise for a few more minutes (my instructions now coming with a little extra heat) before embarking on a trip down the rapids.
This was the highlight of the trip. Having the experienced hand at the back of the boat is vital, but there's also plenty to do at the front in terms of steering and powering along the river.
Canoeing, in rapids or otherwise, is the perfect physical challenge in many ways. You are constantly working your core and upper body, but never enough that it really takes away from the visually stunning experience of paddling down a tree-lined river, especially if you go in the autumn to take in the turning of the leaves.
If you are keen on heading to the True North for your canoeing adventure, Madawaska Kanu Centre offers weekend and five-day courses. If you want to get to grips with canoeing, especially the finer points of steering, we'd recommend the latter.
Weekend Whitewater Program: Approximately $605 (£367). Five-Day Whitewater Program: Approximately $1,400 (£850). Both include kayak or canoe instruction, indoor accommodation and meals (excludes Canadian taxes and rentals). owl-mkc.ca/mkc/ (opens in new tab)
Key Kit: Columbia Drainmaker Water Shoes
Even if you never manage to flip your canoe (due to a lack of commitment), your feet will spend plenty of time in the water. Having wet feet is officially one of the ten least fun things in the world, so ensuring you have the right footwear is the best kit preparation you can make. The Columbia Drainmaker's synthetic quick-dry material is speckled with holes that run right through the shoe to allow water to drain quickly. Despite this water-focused design, they're comfortable enough to walk lengthy distances in. £70, buy on columbiasportswear.co.uk (opens in new tab)
For more information on trips to Ontario and Canada, head to ontariotravel.net (opens in new tab) and explore-canada.co.uk (opens in new tab)
Coach flew with Air Canada. Return economy flights from London Heathrow, Edinburgh, Glasgow, Manchester and London Gatwick to Toronto start from £762.67 including taxes (March 2017). aircanada.com (opens in new tab)
Coach stayed in Ottawa at ARC. Accommodation starts from $139 (£85 GBP) per night based on two adults sharing. arcthehotel.com (opens in new tab)
Sign up for workout ideas, training advice, the latest gear and more.
Thank you for signing up to Coach. You will receive a verification email shortly.
There was a problem. Please refresh the page and try again.