The Best Experience Days That Make Great Gifts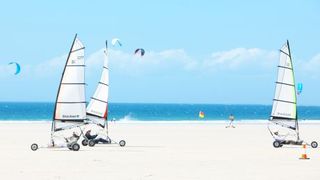 (Image credit: Unknown)
What do you get the person who has everything? A new experience! And this collection of some of the finest experience days available is sure to help you find the right pressie for all the hard-to-buy-for friends and relatives in your life.
Is your giftee the kind of person who'd love to fly down some white water, or just fly? Are they a car nut who'll get a huge kick out of driving a vintage Porsche on ice, or, if that's a bit lightweight, maybe DRIVING AN ACTUAL TANK would go down better? All of these are options available to you and that's just a small taste of what's available.
And don't let the pandemic put you off, with organisers promising to be flexible you won't lose out if circumstances change unexpectedly.
Give The Chance To Set A PB
A free race entry is a great present for any keen runner, but it's pretty hard to enter them for an event you know they want to do without giving the game away. The solution is a RunThrough gift voucher, since RunThrough puts on over a hundred events each year. Most of them are in England, but there are enough locations that most people will be able to find a race near them, and there is a good mix of fast, fun and scenic courses to choose from.
Buy from RunThrough (opens in new tab) | £20-£450
Give The Chance To Slow Down
(opens in new tab)
Slow travel involves using boats, buses and trains to get around, rather than cars and planes, which is not only more sustainable but gives you the chance to really enjoy your surroundings and stop off at less touristy spots along the way. Byway is spearheading the movement with trips around the UK and Europe, and you can buy a gift card that goes towards the cost of one of those trips.
Buy from Byway (opens in new tab) | From £50
Give The Open Water
(opens in new tab)
Wild swimming in the Lake District is a glorious experience, and if you book a session through the Another Place hotel on Ullswater you'll be led by Colin Hill, who has swum the English Channel solo and is one of the UK's foremost open-water swimmers. The options include stargazing swims at night, cross-lake swims to test your endurance, and winter cold-water swims to test your resolve. Since it is a gift, maybe opt for one of the summer ones.
Buy from Another Place (opens in new tab) | From £40
Pack Them Off To Wales For An Outdoor Adventure
(opens in new tab)
Plas y Brenin offers courses to teach essential skills for outdoor pursuits – like how to deal with an avalanche – as well as adventures that offer the "thrills without the skills", which sounds more up our street. Experienced guides will steer you well clear of snowy oblivion and instead take you to the top of Snowdonia, or the best MTB trails, or along the dramatic coastline from a sea kayak. If you're not sure what kind of experience your giftee will fancy, get them a voucher and let them choose.
Give Them A TV Nostalgia Trip
(opens in new tab)
Children of the '90s – prepare for a nostalgia overload. Grab your satin bomber jacket and head for the Aztec Zone, or the Medieval Zone, or whichever was your favourite from the Crystal Maze game show. Solve as many challenges as you can to win crystals, which will be exchanged for five more precious seconds to gather tokens in the Crystal Dome. The Crystal Maze Live Experience, which has locations in London and Manchester, is a joyous day out even if you never saw the show, but it really does help to explain some of the silliness if you have seen it.
Book London now (opens in new tab) | Book Manchester now (opens in new tab) | From £99 in Manchester and £102 in London, for two people
Give An Olympic Experience
(opens in new tab)
There are loads of great cycling events in the UK that are perfect as gifts, but for the riders in your life who feel the need for speed, a session in the Lee Valley VeloPark velodrome is the way to go. A Track Taster gift voucher affords an introductory class at the epicentre of Team GB's Olympic 2012 glory, and you are going to need supervision, because riding up a 42° camber on a bike without brakes is not something beginners should tackle without instruction. Once your giftee gets to grips with the bike and the steep sides of the track, however, they'll be flying along at speeds never reached before on two wheels.
Book a taster session (opens in new tab) | £40, including bike hire and helmet
Give A Go On The Longest Slide In The World
Who says slides are for kids? No-one when the slide involved is 178m long and the longest tunnel slide in the whole damn world! The Slide at the ArcelorMittal Orbit in London's Olympic Park takes 40 seconds to go down and you hit speeds of 24km/h along the way. That might not sound that fast, but when you're flying around the 12 tight turns and the corkscrew section of the ride, 24km/h will feel like plenty – trust us.
Book now (opens in new tab) | £33.50 for two people
Give A Treetop Adventure
(opens in new tab)
Go Ape offers the chance to move from tree to tree without touching the ground. There are now 30 Go Ape locations in the UK, most of which are set in spectacular parks and forests. The treetop obstacle courses comprise zip wires, vertiginous ladders and wobbly rope bridges, but there's no time limits so everyone can tackle the course at their own pace.
Book now (opens in new tab) | £66 for two people
Give A Day Driving Vintage Porsches On Frozen Swedish Lakes
That's a sentence with a lot to it. Vintage Porsches. On frozen lakes. In Sweden. Just let your mind dwell on that for a moment. The reality is driving a load of rally-equipped old-school 911s under the instruction of world championship drivers. This is the (obviously incredibly expensive) stuff boyhood dreams are made of.
Book now (opens in new tab) | From £1,600pp
Give The Ability To Fly
(opens in new tab)
Impatient thrill-seekers will appreciate indoor skydiving. It provides a similar feeling to falling through the air, but there's no need to worry about the weather ruining your day or getting more and more nervous while the pilot climbs slowly to 12,000ft. Instead, participants pitch up, don a flight suit and jump into the skydiving tunnel. Essentially, it's a very powerful upturned fan capable of suspending humans in mid-air. With one-to-one instruction, you'll learn how to perform fancy free-fall acrobatics in the space of hours, rather than months.
Book now (opens in new tab) | £49.99
See related
Give The Gift Of Flight
Not just any kind of flight either – your giftee will take the controls of an ex-military T67 Firefly propeller-driven plane. That's after a thorough briefing of course, and the expert fighter pilot will probably want to take the helm for take-off and landing.
Book now (opens in new tab) | £395
Give The Gift Of Flite
(opens in new tab)
You may not know what a Fliteboard is yet, but when you find out, we can almost guarantee you'll want to try using one. It's basically an electric motorised surfboard that lets you fly over the water at speeds of up to 26 knots (48km/h), all controlled by a remote. The battery allows you to travel up to 19 miles (30.5km) so you can really get around. The first venue in the UK where you can use a Fliteboard is at OTC Watersports in Dorset. Book your giftee in now, and demand that you get to go along as their plus one.
Buy from OTC (opens in new tab) | £199 for and individual session, £149pp for groups of 2-4
Give A Chilly Climbing Experience
(opens in new tab)
If your giftee doesn't have the time for an expedition abroad, help them to experience ice-climbing indoors in London or Lochaber in Scotland. You'll be supplied with crampons, patient tuition and a big refrigerated room containing an 8m "ice tower" (15m if you opt for the Scottish location). There's no need to worry about frostbite or polar bears, and with a variety of routes to ascend, this experience is suitable for accomplished climbers, improvers and people who once watched Cliffhanger on VHS.
Book now (opens in new tab) | £75
Give More Air Time
(opens in new tab)
If Indiana Jones had a penchant for bouncy castles rather than dusty old religious relics, we feel certain he would approve of Bounce Below. Located in an old Victorian slate mine in Wales, this is a subterranean adventure playground for adults that comprises slides, chutes and bouncy nets – all suspended in spectacular neon-lit caverns. Bouncing around like Lara Croft, 50m in the air, in a cave that's twice size of St Paul's Cathedral? That has to be worth the price of entry.
Book now (opens in new tab) | £25
Give The Gift Of Captivity
(opens in new tab)
This excellent live escape game is a lot like taking part in TV show The Crystal Maze, although thankfully you won't have to dress up in a jumpsuit (not that anyone will stop you if that's your thing). The object is to solve the mystery and escape the locked room in under an hour. Assemble a team of three to six players and together you'll crack the clues, reveal hidden compartments and unravel riddles. Each room is themed, ranging from an Egyptian tomb to a Mission: Impossible-style job complete with smoke and laser beams.
Book now (opens in new tab) | £75 for three people
Give A Ride On A Hot Dog
Hot dogs are not only a suspiciously delicious form of meat but also an inflatable two-man kayak that can transport your dad down the rapids at the Lee Valley White Water Centre. If you've never paddled a hot dog before, and it seems a safe assumption, never fear – you get plenty of time to practise before you head for the rapids.
Book now (opens in new tab) | £100 per boat
Give Them A Tank
(opens in new tab)
Armourgeddon's Tank Driving Taster will see you take an FV432 tank for a spin, initially with the hatch open, then under "battle conditions" through a periscope. Set your sights on Tank Paintball Battles instead, and learn to load the breach, stick your fingers in your ears and fire your tank's hilariously-powerful paintball cannon. It's just like the Brad Pitt film Fury, but without the gory casualties.
Book now (opens in new tab) | £80
Give The Gift Of Survival
We're not saying it's definitely going to happen soon, but when the breakdown of modern society arrives, we'll want Nick Weston in our survival squad. Weston is an expert in all aspects of thriving in wilderness whose East Sussex foraging and wild cookery school Hunter Gather Cook offers a spectrum of courses for the would-be Wildman, including finding fungi, deer butchery, fishing, cooking on fire and – although you shouldn't need much instruction for this last one – feasting. Who said the new world disorder couldn't be smoky and delicious?
Book now (opens in new tab) | From £180
Give Them A Taste Of What It's Like To Be Iron Man
(opens in new tab)
What happens when you cross a hoverboard with a jetpack? A flyboard, that's what. Invented by former world Jet Ski champion Franky Zapata in 2011, flyboarding has swiftly become one of the most popular new extreme sports. Feet strapped to the board, participants squeeze the trigger to unleash jets of water that propel them 5m into the air. This introductory lesson takes about two hours, including a safety briefing and 30 minutes of "flying" time. A decent level of fitness is required and it's probably best if you can swim – even if it's just doggy paddle.
Book now (opens in new tab) | £95
Give A Blokart Session
(opens in new tab)
We don't need to tell you that a blokart is a beach-going kart powered by windsail, do we? Of course not, but we should inform you that you can send your nearest and/or dearest off to ride in one for an hour in Jersey. After a briefing that lasts just ten minutes, they're off, rolling around the sand at the wind's behest and probably shrieking in delight/terror at the complete lack of control.
Book now (opens in new tab) | £35
Give A Kickabout With A Football Legend
The best thing about buying your dad the chance to hang with his football hero? The look on his face when it finally sinks in. The worst thing? The rest of your year spent listening to how excited he is and then how excellent the experience was, how he lobbed David Seaman from the halfway line, and so on and on and on and on… If you can handle the endless anecdotes, take a look at Play With A Legend, which can make exactly that happen with a multitude of former sports stars.
Book now (opens in new tab) | Prices vary
Send Them To Hogwarts
Do family days out come any better than visiting the wizarding world of Harry Potter? In fact, scrap that – do days out in general come any better? If you know a Potter obsessive then book them a trip to the Warner Brothers Studio tour, which takes in sets from the films including Diagon Alley, Hogwarts' Great Hall and the Forbidden Forest.
Book now (opens in new tab) | £47, kids £38
Sign up for workout ideas, training advice, the latest gear and more.
Thank you for signing up to Coach. You will receive a verification email shortly.
There was a problem. Please refresh the page and try again.