How To Bag A Black Friday Deal On Holidays And Travel
By Coach Staff last updated
What to watch out for when booking a holiday this week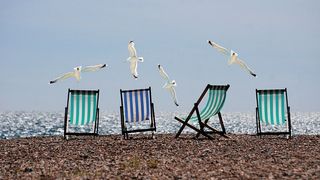 (Image credit: Unknown)
In This Series
"Booked it, packed it, fucked off." Peter Kay's memorable routine on buying holidays via Teletext still holds up nearly 20 years on. You almost certainly book holidays online now, but the temptation to pack the bags and jump on the soonest flight remains, especially with Black Friday and the boom in last-minute holiday sites. However, travel, more than any other sector, should be treated with caution this week. While it's worth taking a punt on a pair of tracksuit bottoms if they're a fiver, holidays bring bigger pitfalls. Here are the questions you need to ask of any "bargain" trip.
Is It Really A Deal?
"Just assuming a 'deal' is good value because it's part of Black Friday is probably the number one thing to avoid," warns Bob Cohen of travelexpert.org.uk (opens in new tab). "Just because something is cheap doesn't make it suitable for you. Say you hate hot weather, a cheap deal to Turkey in August may tempt you, but should probably still be avoided."
Donna Jeavons of Contiki travel (contiki.com (opens in new tab)) adds: "It's good to be aware that the cheapest deals are not always necessarily as good value as they seem. Carefully check what's included in the price and reviewing the small print before you book. Do your research in advance."
RECOMMENDED: The Ski Trips That Make You A Better Skier
Should I Wait For Monday?
"Cyber Monday is arguably more important for the modern travel industry," explains Cohen. "You get all sorts of deals across all areas in the sector, from hotels and airlines offering direct reductions to independent travel agents having offers; and from the industry big boys having sales to promotions from ferry companies and other operators."
How Can I Find Deals Early?
"As Black Friday and Cyber Monday become more culturally embedded, avoiding the deals is probably harder than finding them," reveals Cohen. "That said, signing up to airline and hotel newsletters as well as being on the mailing lists of the various voucher and deal companies is a good idea." Flight Centre is one such company doing just that: (flightcentre.co.uk (opens in new tab)) so you can see its "Red Friday" push before other bargain-hunters. Meanwhile, some travel companies put offers on in the build-up to Black Friday to steal a march on rivals, as Jeavons adds: "We have some early-bird discounts on our popular Asia products, including our brand new Eternal India journey."
RECOMMENDED: 12 Winter Holidays Above and Beyond Your Average Ski Break
Will Brexit Affect My Holiday?
Jeavons points out that there is a silver lining for those with money to spend: "It's also a great time to travel in Europe. Following the EU referendum Contiki has seen a 22% spike in bookings, which indicates that millennials are eager to travel in Europe now in case the landscape changes."
Coach is the place to come for all your health, fitness, and personal wellness needs.
Sign up for workout ideas, training advice, the latest gear and more.
Thank you for signing up to Coach. You will receive a verification email shortly.
There was a problem. Please refresh the page and try again.