The Best Activity Holidays In The UK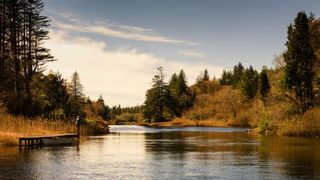 (Image credit: Unknown)
"I need a holiday." Yeah, you do, and considering that a jaunt abroad may well be followed by two weeks of confinement you'd be wise to take that break on these shores. Given current circumstances, outdoorsy fun seems like a fine choice, so we've compiled a shortlist of excellent ideas that'll not only have you returning home well rested, but carrying a great sense of achievement too.
It should go without saying – although we'll say it anyway – that different parts of the UK are in different states of lockdown. You shouldn't hop in a car tomorrow, for instance, and expect to be able to rock up in Wales and go fat biking on a beach, or swing by the Lake District and take a dip. With a fair wind you should be able to make a pre-planned trip later in the summer, so take the below as inspiration and make sure you contact rental shops or activity providers well in advance.
Yoga And Wild Swimming On Anglesey
If you love Wales, wild swimming and yoga, then boy are you in for a treat. These yoga retreats on Anglesey include guided trips to some of the most beautiful swimming spots on the island, whether you're keen to jump into the sea, relax in a mountain lake or immerse yourself in a waterfall. It's sure to be an invigorating experience, and your guides will be on hand with tea and cake to help you warm up afterwards. Then it's back to the retreat for more yoga – the sessions are more challenging in the morning and then relaxing in the evening. The country house location offers views of Snowdon and 21 acres of private parkland to explore when you're in between swims and yoga sessions. You can book now for one of two retreats currently available in 2020: the first runs from 24-27th July and the second from 18th-21st September, with prices starting from £515. thezestlife.co.uk (opens in new tab)
Coracle Rowing In Pembrokeshire
Sure, you could experience the lake at luxury activity retreat Bluestone from the comfort of a kayak, but it's a bit safe don't you think? A bit done? Coracle rowing, on the other hand, is so little known we're going to have to explain it. Essentially, it's paddling around in a large round barrel solo. These historic vessels were used by ye olde Welsh fishermen, and while it's not the most comfortable ride, you'll really feel a sense of achievement when you master it. And the relaxing posh accommodation and spa waiting for you on dry land will more than make up for your sore backside. bluestonewales.com (opens in new tab)
See related
Stand-Up Paddleboarding In Cornwall
Not only does it give an incredible vantage point from which to see the great British coastline but stand-up paddle boarding, the much-hyped surf-kayak crossover, is also an intense full-body workout which places particular demands on your core. Oh yeah, you're damn right it's time to cash in the benefits of all that core work you've been doing. WeSUP, the UK's first adventure centre dedicated to the sport, offers a spectrum of exciting Cornish waterborne day trips – and the 24-hour paddle, BBQ and camp package up Falmouth's Helford Passage is the one that's got us really wanting to cross the Tamar and rush to the foot of the country. wesup.co.uk (opens in new tab)
Open-Water Swimming Around Scilly
Popping over to the Scilly Isles for a weekend? Make sure you've got Adventure Scilly saved in your browser favourites. From wild swimming to trail running, this firm has got you covered, and will prove to you that a trip to the little spit of land beyond Penzance is more than just a watercolour painter's relaxing dream destination. adventurescilly.co.uk (opens in new tab)
Shark Spotting in Scotland
Finally, Shark Week is no longer something that only our transatlantic brothers and sisters can enjoy. In the cold dark waters off Scotland lurks the enormous yet graceful basking shark – the second biggest fish in the entire ocean and a sea beast that Basking Shark Scotland is totally obsessed with tracking down for you. BSS is now taking bookings for seven-day sea tours in 2018, which'll have you staying in self-catered accommodation on the Isle of Coll and enjoying six days of boat trips to see these 10-metre monsters in all their glory. There are even tanks and airfills for the braver among you who fancy jumping in alongside the swimming behemoths. baskingsharkscotland.co.uk (opens in new tab)
Walking In The Cotswolds
Walking, eh? You're pretty good at it. Plenty of hours under your belt. Semi-pro, if anything. But is there anywhere better in the UK for showing off your stepping skills than the majestic, poetic surrounds of the Cotswolds? No sir, there is not. Cotswold Walks offers a huge range of walking tours, from guided to self-guided, from luxury short breaks to tailor-made ones. These guys are the leading walking and hiking specialists in the area, so you know they'll safely guide you up, down and out of the hills, and to the pub for a well-earned local pint at the end of the day. cotswoldwalks.com (opens in new tab)
Wild Swimming In The Lake District
Walking is probably your first thought when it comes to Lake District activities, which is mad, because there is so much water. It's right there in the name! You'll probably want to steer clear of the most popular lakes, like good old Windermere, because of the boat traffic but there is still a huge amount of gloriously fresh H2O to tempt open-water swimmers, from novices to veterans. There are several companies that rent out equipment – you'll be wanting a wetsuit – and offer guided sessions for those who lack experience venturing out into the open water. You'll find contact details plus a round-up of top swimming spots and general safety advice on the Lake District website. lakedistrict.gov.uk (opens in new tab)
Clay Pigeon Shooting In Suffolk
If you're yet to throw some lead up into the sky or enjoy the scent of smoke wafting from your gun as you eject your empty cartridges from their barrels, then you haven't lived. Clay shooting is the at-times-infuriating, at-times-deeply-satisfying but consistently exciting pastime that isn't just for craggy-faced tweed-wearing farmer types. For proof get on down to High Lodge, a top-drawer destination set up by seven-time world champion John Bidwell. It's set in the heart of tranquil Suffolk woodland and comprises of luxury lodges, hot tubs, fishing, golf, a restaurant and a fantastic clay shooting set-up. And with "have-a-go" starter lessons for £35, you'll be peppering those little discs in no time. highlodge.co.uk (opens in new tab)
Fat Biking In The Merthyr Mawr Sand Dunes
The second tallest sand dune in Europe is found on the south Wales coast and the best way to travel down it is undoubtedly on a fat bike, whose huge tyres enable you to travel over sand without it being a horrendous slog. In fact, it's just the opposite – a gigantic amount of fun – though do expect to feel some nerves when you're at the top of the 60m-high Big Dipper dune, steeling yourself to ride down it. You can hire bikes easily in the nearby town of Porthcawl and ride along the beach to the dunes by yourself, or as part of a guided tour. porthcawlbikehire.co.uk (opens in new tab)
Craft beer drinker, Devonian, fisherman and former content director of Coach online, Chris contributed style coverage and features between 2016 and 2019.
Sign up for workout ideas, training advice, the latest gear and more.
Thank you for signing up to Coach. You will receive a verification email shortly.
There was a problem. Please refresh the page and try again.