The Best Adventure Holidays In The UK
By Chris Sayer , Nick Harris-Fry published
Where to go if you like your British breaks with an injection of blood-pumping adrenaline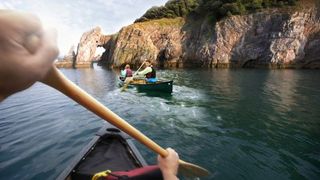 (Image credit: Unknown)
Take our paltry pound off the table and put the global pandemic to one side, and we'll argue that the UK is still a great place to holiday till the cows come home, with plenty for those who crave an injection of adrenaline and a satisfying ache in the muscles. And it's worth moving quickly if you want a break this summer: while centres are reopening to customers, each is having to make good on postponed bookings. Still, if the adventure that floats your boat isn't going to happen until 2021, there's no harm lining up something to look forward to now. Start with our picks of the best heart-racing holidays, and if you find you need a cup of tea and a nice sit-down afterwards, perhaps these more sedate UK activity holidays will be more your speed.
Climb 15 Welsh Mountains
When three peaks just aren't enough to satisfy your urge for adventure, perhaps 15 will do the job? You have five days to tackle 15 of Snowdonia's highest mountains (opens in new tab), starting with big poppa Snowdon itself, with expert guidance provided by instructors from National Outdoor Centre Plas y Brenin (£694). In total you'll be taking on over 4,250m of climbing, and hitting the summits of five 1,000m-plus mountains. And if that still doesn't sound tough enough then make sure you sign up for the winter version of the challenge, rather than the less snowy summer option.
If hiking isn't really your thing, there are plenty of other opportunities for adventure with Plas y Brenin too, with mountain biking and sea kayaking trips available for all abilities. pyb.co.uk/adventure (opens in new tab)
Go Diving At Scapa Flow
Five of the Orkney Islands – Mainland, Graemsay, Burray, South Ronaldsay and Hoy – combine to shelter the waters of Scapa Flow, making the area a haven for ships. And where there are ships, there are shipwrecks, which means these waters offer some of the best diving in Europe. Divers of all levels can see the wrecks, which include seven German ships scuttled at the end of the First World War. If you've never dived before you can get your PADI qualification by doing a course (from £625) with Kraken Diving, which also offer guided dives (from £170) of the area or a snorkel safari (£60pp). krakendiving.co.uk (opens in new tab)
Blokarting In Jersey
A windy day in Jersey is the setting for this adventurous activity, where you jump into a gokart with a sail and set off over the sands of St Ouen's Bay at high speed. Absolute Adventures promises that it'll take just ten minutes to learn how to control the blokart, which is steered like a bike, so you'll be tearing around the beach in no time. That's good, because you'll want to get as much blokarting in a possible before the tide comes in and you end up sailing out to sea. absoluteadventures.je (opens in new tab)
River Tubing In Perthshire
As if the sensation of near-drowning wasn't terrifying enough, the sport of river tubing ups the ante by throwing the threat of concussion into the mix. Actually, clinging to an inflatable donut as it pinballs from rock to rock through raging rapids is all fun really (we promise), and you can do exactly that with Nae Limits, based in Perthshire. If/when you come out alive and gagging for another hit of adrenaline, the adventure experience company offers an Awesome Foursome package (opens in new tab) (£180) – a four-activity weekend with white-water rafting, canyoning, cliff jumping, quad biking and clay pigeon shooting to choose from. Nae Limits will even help you out with some wonderful local B&B options to calm your frayed nerves in after a hard day of not dying. naelimits.co.uk (opens in new tab)
Caving In The Peak District
Leave all the meeting requests, mortgage repayments and visits from the in-laws to the surface dwellers and head underground, where nobody can get a hold of you on WhatsApp or send a morning catch-up request to your iCal. Bliss. OK, you'll have to deal with your fears of dark confined spaces, but Pure Outdoor's two-day beginner's caving course (opens in new tab) (£165) in the Peak District is the perfect way to escape modern life's minor irritants. Learn to navigate through tight underground walls cut by ancient waterways and made entirely of fossils and minerals, and take in some remarkable crystal formations, before emerging topside and heading back to any one of the company's recommended local B&Bs. And then do it all over again the next day. pureoutdoor.co.uk (opens in new tab)
See related
Cable Wakeboarding In The New Forest
You no longer need the shaggy locks of Patrick Swayze in Point Break and the vernacular of Bill and/or Ted to try your hand at wakeboarding. Cable schools – a revolving line around a lake, removing the need for a boat – have made the sport accessible, and the New Forest Water Park's the perfect place to get stuck in for the first time. Strap in, hold on and get to grips with the adrenaline-pumping sport under expert tuition, before drying out and resting your aching thighs beside a campfire, then retreating to your tent or trusty campervan for some much needed kip. newforestwaterpark.co.uk (opens in new tab)
4x4 Motor Safari In Cheshire
Love the idea of a go-anywhere, tackle-anything adventure in some stunning surroundings, but would rather not have to empty your loafers of puddle water after every step you take? You're in need of some Top Gear-approved petrol-scented 4x4 action. Master an all-terrain vehicle at Motor Safari's weekend breaks in Cheshire by smashing it through water and climbing it along "surely not up there!?" inclines, before resting up in a range of accommodation options that include bushcraft-style lodges for the Bear Grylls fans among you, and five-star spas for you more demanding Clarkson types. motor-safari.co.uk (opens in new tab)
Mountain Biking In Wales
When a holiday company tells you to "just bring booze", you know that first, it's talking your language, and second, it's about to really look after you. Such is MudTrek's advice when talking about its mountain biking escapes to the rugged countryside of Carmarthenshire. With home-cooked meals, BBQ cookouts, options from weekends to full week stays, three types of accommodation to choose from, personalised photos and movies to take away as mementos, as well as more off-piste riding than your legs can handle, you're gearing up for a seriously cool break in the saddle. mudtrek.com (opens in new tab)
Sea Kayaking In Scotland
Wilderness Scotland's West Coast Explorer package is the real deal. Not only will you breathe in the breathtaking coastal areas and wildlife of Knoydart, Plockton and the iconic Skye from an unrivalled vantage point atop your very own kayak, but you'll be paddling with everything you need for a spot of wild camping under (hopefully) clear skies, too. The cherry on top is the promise of an exceptional local pub meal when you come ashore for the final time. Sign us up. wildernessscotland.com (opens in new tab)
Climbing In The Lake District
There's nothing like climbing up a cliff face to take your entire body to its limits. Feel that deep burn from fingers to feet at the Lake District's Via Ferrata Xtreme, a multi-award-winning experience that'll have you clinging to exposed ridges, scaling vertical climbs, manoeuvring across cliff-edge ladders and scrambling up giant cargo nets at heights twice that of The Shard. And if you're smart enough to book a stay at Paradigm (opens in new tab)'s luxury self-catering properties, one ticket for the adventure comes free. honister.com (opens in new tab)
Road Cycling The Atlantic Highway
Seven days, 920km, one entire landmass, end to end. Sounds like a challenge, right? It sure is, buddy. This is the MizMal, a cycle from the top of Northern Ireland all the way down to the southern tip of the Republic of Ireland. It's so called because you kick things off at Mizen Head and end at Malin Head, hugging the entire western coast – known as the Atlantic Highway – as you go. Wild Atlantic Cycling, which runs the trip, will help you reach your destination in one piece – and maybe even with a smile on your weary, weather-beaten face. wildatlanticcycling.com (opens in new tab)
Surfing In Snowdonia
Photograph: Nick Pumphrey
Dream of the perfect wave, and you'll probably imagine the giant rollers crashing into golden sands in Hawaii, the barreling blue lagoons of Tahiti or the spine-snapping monsters off the coast of South Africa – not Wales. But cool your jets, dude – this is Surf Snowdonia, the head-high wave that peels perfectly for 150 metres in a manmade lagoon nestled in Conwy Valley. It's the only place to be if you want to unleash your inner Kelly Slater before crashing out in an onsite glamping pod, without leaving UK waters. surfsnowdonia.co.uk (opens in new tab)
Craft beer drinker, Devonian, fisherman and former content director of Coach online, Chris contributed style coverage and features between 2016 and 2019.
Sign up for workout ideas, training advice, the latest gear and more.
Thank you for signing up to Coach. You will receive a verification email shortly.
There was a problem. Please refresh the page and try again.