Bear Grylls on Endeavour: "I'm So Far Out of My Comfort Zone"
By Gary Ogden published
"We're recreating some of the greatest moments of human exploration and adventure through the ages."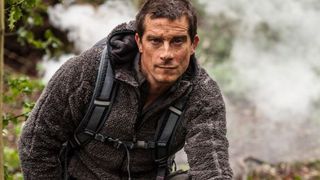 (Image credit: Unknown)
What can we expect from your live show?
Endeavour's a special one for us – it's taken two years to put together, and is the start of a big global tour. We really turn these arenas into incredible wildernesses and take people on a journey from jungle to mountains; even space. We're recreating some of the greatest moments of human exploration and adventure through the ages – base jumping, avalanches, cliff diving, you name it.
Was training a shock to the system?
For the show we've focused more on flexibility and core strength stuff, but to be honest it's there already – it's all about pacing yourself and not getting injured. You watch the Cirque du Soleil people, or Olympic gymnasts, and they make it look so easy, but when I started doing it, I was like "Holy shit, I'm never going to be able to do this stuff." My 13-year-old said, "Well, maybe at 42 it's not the time to be learning back-flips for the first time…"
What calorie counters can't count is the calories burnt through adrenaline and fear. I'm never one for too many gadgets – I keep it pretty raw. We've been up on our little island in north Wales, and it's just a pull-up bar over a cave, an old rusty kettlebell and my timer. And a hill…
What is your guilty pleasure?
I'm a real foodie, and I love the odd unhealthy meal out. The rest of the time I really try to eat healthily and be disciplined about it – limit sugar, wheat and dairy, but still come up with delicious recipes – we wrote a book called Fuel For Life (opens in new tab) that was really tailored towards that. The temptation is always to have too many cheat days, but I think if my wife was reading this, she'd be like "What do you mean? You're so disciplined."
What's the most extreme thing you've done in the name of good health or fitness?
I read a lot about this cryotherapy stuff – freezing yourself at minus whatever, and I'm thinking, "Hold on, I've been doing that for years, jumping in ice-cold lakes. It's the wilderness version of cryotherapy, and I've been doing it since I was a kid…
Have you ever bought a piece of exercise equipment but never used it?
Yes, foam rollers! I just like the old-school stuff, I don't even buy the gimmicky stuff. Shara [Bear's wife] once bought me one of those sit-up curl machines – it's like no, that's hopeless. Just hang off a bar and lift your legs up and down, then you'll get a core workout.
Is there a piece of gym equipment you can't live without?
Not really, I come back from the island fitter than anything, because it's hard work running up a hill in the pouring rain and strong winds. I keep it short and sharp, but it's high intensity stuff and I feel fitter now than ever. It's a different sort of fitness – it's not the endurance I had in the SAS, but it's a lean, flexible strength that I didn't have then.
Have there been any mishaps in the run-up to your show?
Touch wood, no – I'm careful on that stuff, and know when to push and when to rein it back. When you're learning new skills, you don't yet know how your body reacts – when you're hanging upside down for a long period of time you're suddenly like, "Hold on, that hurts." I think unless you're out of your comfort zone, you're not growing, and for Endeavour I'm so far out of my comfort zone.
How do you avoid the lure of the service station pasty?
Well, I'll be asleep when we're going past! Then, when we get to the shows, we'll have good, healthy catering, I really make sure we're on that. I send them a note every week. It is a key part of it.
Have you ever "let yourself go" at any point in your life?
Yeah, definitely – after I left the military I was three stone bigger than I am now. It's a real life change to learn how to train and eat properly, and that's why I'm fitter and stronger now than I was in my twenties. It's not something that comes naturally to me; I don't think I'm as strong and brave as people may think. The more adventures we go on, the more I realise my frailty and humanity, but that's part of life's journey, that awareness.
Tickets for Endeavour presented by Land Rover are on sale now, available at beargryllslive.com (opens in new tab)
Sign up for workout ideas, training advice, the latest gear and more.
Thank you for signing up to Coach. You will receive a verification email shortly.
There was a problem. Please refresh the page and try again.