Active Stag Do Ideas In The UK And Europe
By Max Anderton , Nick Harris-Fry published
When just getting blotto isn't enough, try these 20 ideas for UK and European stag do activities, starting at £10pp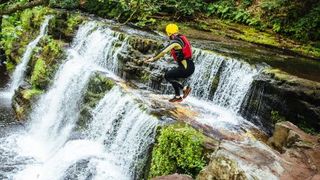 (Image credit: Unknown)
While the evenings and nights of stag dos will almost always remain sacred periods devoted to bacchanalian pursuits, more and more stag groups are filling the daylight hours with activities that burn almost as many calories as you drink back in later.
Forget paintballing or ten-pin bowling. Fill the periods between drinking with adventure. We're talking caving, climbing or driving a flipping tank – all excellent ways to form daytime bonds with your fellow man that can be comprehensively cemented through alcoholic misadventures that night.
Stag Do Ideas In The UK
Become Bear Grylls
According to the Bear Grylls Adventure experience there are four main skills you need to learn to be comfortable in any situation. These are solving mazes, solving escape rooms, overcoming physical obstacles and archery. You'll get to do all four in the Basecamp section of your trip to the Bear Grylls Adventure centre in Birmingham. And that's not all. After you've completed Basecamp there are four headline activities to add to your expedition: scuba diving (or snorkeling) in a tropical tank, climbing walls designed to mimic famous real-world ascents, tackling a high ropes course that's accessed via a zip line from a (model) helicopter, and indoor skydiving. Or you can get an all-in pass and do all four headline activities plus Basecamp.
Book with Bear Grylls Adventure (opens in new tab) | From £18pp
Negotiate The Ninja Warrior Obstacle Course
If you have ever watched the Ninja Warrior TV show and complained that the competitors were making a meal of completing the course, it's time to put your money where your mouth is and tackle the obstacles yourself. There are now four Ninja Warrior UK Adventure Parks in the UK – Cardiff, Gloucester, Stoke-on-Trent and Wigan – with each containing a massive range of obstacles, from balance beams and spider walls to monkey bars, as well as the show's famously difficult-to-conquer warped wall.
Book with Ninja Warrior UK (opens in new tab) | £10
Climb A Wall Of Ice
Yes, like in Game Of Thrones. Well, to an extent – the wall of ice is only 12m high and you'll have ropes and expert advice, which is a little different to tackling a sheer 200m wall of ice while the Night's Watch and/or White Walkers attack you. Thrillingly, ice-climbing is not even the most adrenaline-filled pursuit you can take on at Ice Factor in the Scottish Highlands, because there's also an aerial assault course to work your way through. The 250m-long course including obstacles like tightrope walks, vine swings and commando nets, all of which are 10m above the ground. ice-factor.co.uk (opens in new tab)
Book with National Ice Climbing Centre (opens in new tab) | From £49.99pp
Get Castaway In Cornwall
The coastal Cornish town of Newquay is one of the best adventurous stag spots in the UK thanks to the huge range of activities on offer and an equally impressive nightlife scene. We'll assume you can organise a piss-up in a pub, but for the daytime book the Cornwall Castaway mini-adventure with Newquay Activity Centre. You'll be shipwrecked off the coast and have to make dry land through wild swimming and climbing along the rocky coast, jumping off some sizeable cliffs into plunge pools along the way. Once you make it to the charmingly-named Dead Man's Cove you'll learn survival skills and get some foraged food inside you. Then it's time to return to civilisation by paddling a Super SUP (stand-up paddleboard) back to the shore. Oddly there is no time allocated on the schedule for creating a friend out of a volleyball, so you'll have to bring one along. All together now… WILSOOOOOOOON!
Book with Newquay Activity Centre (opens in new tab) | £69pp
Climb Three Peaks
Not those three peaks. While climbing the three biggest mountains in each country in Great Britain – Ben Nevis, Scafell Pike and Snowdon – is a great activity, it's a bit too time-consuming and requires too much training for a stag do, so keep that powder dry and try the Yorkshire version of the challenge instead. The towering trio of Pen-y-ghent, Whernside and Ingleborough can all be climbed as part of an epic hike that will take under 12 hours, leaving plenty of time to celebrate your achievements in one of the many excellent pubs in the area. You can sign up for an organised trip to do the Yorkshire Three Peaks, but it's also easy to arrange yourself. Use the advice and kit list on the Three Peaks Challenge website (opens in new tab) to make sure you have everything you need.
Book a private group excursion with Three Peaks Challenge (opens in new tab) | £85pp, minimum group of 15
Play Football In A Bubble
Football is a great activity for a stag do but to really up the stakes, try playing it with every player's upper body encased in a huge inflatable sphere. This way when one of the stag's weird friends from childhood starts pulling out some annoyingly impressive footwork, you don't have to charge in with a brutal reducer that casts an unpleasant shadow over the rest of the weekend. Instead you can bump him to the floor in hilarious fashion. Haha!
Book with The Stag Company (opens in new tab) | From £29pp, minimum group of ten
Bike The Brecon Beacons
For a shot of pure adrenaline, it's hard to beat mountain biking, especially if you get the chance to ride in the spectacular scenery of Wales' Brecon Beacons National Park. Guided by Adventure Travel, your group (bar the odd fish who never learned to cycle and will be left in the pub) can ride the best climbs, downhills and jumps the area has to offer during three to six hours in the saddle.
Book with Adventure Britain (opens in new tab) | From £55pp
Lay The Smack Down
Don some Speedos and do your best Macho Man Randy Savage impression at a private wrestling school (booked through a stag do company and available in Blackpool, Liverpool, London and Manchester) complete with full ring and ex-pro coaches. You'll learn real moves, come up with your own special finisher, and then round the day off with filmed tag team battles or a Royal Rumble. Just ensure there's enough time before the wedding for any accidental black eyes to heal.
Book with Stag Web (opens in new tab) | From £35pp
Do The Ultimate British Pub Crawl
This legendary 143km Yorkshire Dales walking route taking in 26 country pubs isn't one for the unfit… or weak-livered. The eight-day (with six days of walking) circular hike is populated with traditional, remote boozers complete with slightly odd locals (beers and people). You'll cover 17 to 22km each day, meaning you can get away with telling everyone at the wedding you did an ultramarathon together. No-one needs to know how long it took or how much beer you had on the way. The walk is detailed in the guidebook The Inn Way... To The North York Moors (opens in new tab), but it can be tackled with the help of a tour company, which will transport your bags to each night's accommodation so the only thing weighing you down will be the pints you have with lunch.
Book with Brigantes (opens in new tab) | From £435pp
Puzzle Your Way Through The Crystal Maze
It's not the most active option on this list, but it is undoubtedly the most nostalgic. If you're of a certain age, tackling Physical, Skill, Mental and Mystery games to collect crystals in the Aztec, Medieval, Futuristic and Industrial zones, all with the overarching aim of amassing time to collect as many golden tickets in a huge Crystal Dome as possible, is just about the best way to spend an hour. In fact you don't even have to be of a certain age, or a fan of either the original with Richard O'Brien or the new Richard Ayoade-fronted version – it's just bloody great fun. You can try the live experience of the beloved '90s cult TV show in either London or Manchester, and we'd heartily recommend you do just that.
Book with The Crystal Maze (opens in new tab) | From £29.99pp (Manchester) or £54.99pp (London)
Butcher Bambi
Reconnect with your primal instincts at Hunter Gather Cook where you'll kick off the day by skinning and butchering a deer – it's a bit like the dark BBC comedy Stag, minus the getting hunted to death. Once there's fresh meat on the fire (also built by your stag crew), it's time to sink local ciders in a treehouse while the groom-to-be endures an I'm A Celebrity-style bush tucker trial administered by your worryingly gleeful woodland hosts. Next stop: Brighton – only a few miles away.
Book with Hunter Gather Cook (opens in new tab) | From £120pp
Drive A Ruddy Tank
Ditch normal paintball guns in favour of taking control of a genuine FV432 tank at Armourgeddon in Leicestershire. You'll work in three-man crews, driving and shooting the 40mm paint-firing cannon as you're pitched against up to 11 more tanks in a WW2-style battlefield scenario. For the full effect watch Fury beforehand and argue over who gets to pretend to be Brad Pitt.
Book with Armourgeddon (opens in new tab) | £99pp
Leave Your Comfort Zones
Depending how dirty your mind is, getting into small damp holes and wriggling about for a bit doesn't sound like most people's idea of fun. Caving is an absolute blast, though. The feeling of venturing in to the unknown and emerging intact from a situation that looks like the start of a Casualty episode (back when it used to be about gnarly accidents instead of hospital staff romances) can't be topped. Use Adventure Britain to handle the logistics (and safety) – we went and loved it.
Book with Adventure Britain (opens in new tab) | From £55pp
Race Tiny Powerboats
It's thrills without the skills, or effort, in these little inflatable powerboats – well, apart from the effort of hanging on for dear life. Ripping through huge wakes whatever the weather, two pairs go up against each other with a pro driver at the wheel. You'll hang on for life as the Zapcats fly off the top of ramp-like waves and skid round the designated course in Bournemouth at breakneck pace. If ocean conditions are good enough, you even get a crack at driving. stagweb.co.uk (opens in new tab)
Book with Stag Web (opens in new tab) | From £99pp
See related
Stag Do Ideas in Europe
Give Gaelic Games A Go
It's fair to say you can't get close to mastering the skilful Irish sports of hurling and Gaelic football in the space of a couple of hours, but what you can do is get a taste. Both are brilliant fun and allow you to whack your stag with a stick (in the hurling part anyway) with surprisingly little intervention from the ref. The sports are fast-paced and frequently involve minor melees in the middle of the pitch, with the result that after just a couple of hours even the fittest stag groups will be happily knackered and more than ready to hit the pub for a few well-earned pints of Guinness. You can find Gaelic games taster sessions in several Irish locations – consider the charming city of Galway if you're keen to avoid the well-trodden stag path to Dublin.
Book with Stag Weekends (opens in new tab) | From £43pp
Test Your Sporting Mettle
If bragging rights are as important to you as boozing on a stag do, head to the Skill Zone in Dublin, where you and your companions can compete for supremacy in a ten-sport challenge. You'll shoot hoops, kick balls, climb walls, fire (toy) guns and hang from a pull-up bar for as long as possible, with each sport scored to give you a final tally that you can shove in the face of your defeated rivals, or never speak of again if you finish dead last. You may be surprised at what you're best, and indeed worst, at – the Army officer in our group who let himself, his Queen and his country down during the shooting challenge certainly was.
Book with Skill Zone (opens in new tab) | €20pp (around £17)
Go Big Game Fishing In The Algarve
Portugal's Algarve is an area where you'd perhaps expect to encounter nothing more dangerous than sunburned Brits, but head out on the seas around Albufeira and you have the chance to reel in some seriously big fish. Three kinds of shark patrol the waters – hammerhead, blue and mako – and there are also tuna and swordfish lurking in the depths. Once you've snapped a pic with your catch you'll have to let it go, but the exhilaration of besting a mighty sea beast will carry you through an epic night out once you're back on solid ground.
Book with Design Adventure (opens in new tab) | £110pp, minimum group of ten
Go Full Viking
Photography: © Hipfel/Starck
Make like Ragnar with a trip down central Sweden's Klaralven river. Vildmark i Värmland provides the timber and tuition for your group to build its own raft for a one-, two- or five-day adventure, staying on the boat, in tents and a traditional log cabin on the way. Seeing beavers swim alongside you while moose graze on the riverbanks is pretty great, but the total disconnection from the modern world is what sets this apart from other stag do activities.
Book with Vildmark (opens in new tab) | From £250pp
Cycle Your Way To Inebriation
Destroy the lager-lout reputation of British stag do parties by becoming beer connoisseurs on UTracks' Bavarian Beer Trail Cycle. The seven-day trip is a gentle meander through the Aisch Valley, home to nearly a third of Germany's breweries – there are so many in close proximity that you can stop for a drink at one every few kilometres. Planning on taking gulps rather than sips? Shorten the 60km circular route with local trains and trams. utracks.com (opens in new tab)
Book with UTracks (opens in new tab) | From £690pp
Cruise The Croatian Coast
Live the swag life of a rapper – or nerdy app inventor, if you wear glasses – by getting a skippered yacht to navigate Mediterranean waters and drop anchor at island beach clubs and bars. You can spend a week on a five-cabin boat, including flights, transfers and accommodation, for around £500 per person – not exactly cheap, but not too bad for a taste of the luxury lifestyle. seamaster.co.uk (opens in new tab)
Book with Sea Master (opens in new tab) | From £509pp
Sign up for workout ideas, training advice, the latest gear and more.
Thank you for signing up to Coach. You will receive a verification email shortly.
There was a problem. Please refresh the page and try again.