Beth Potter On How Cross-Training Can Make You Faster Over 5K
By Nick Harris-Fry published
Use these tips from the incredibly speedy Potter to smash your 5K PB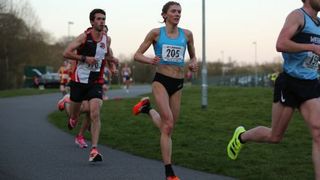 (Image credit: Unknown)
On Saturday 3rd April, Beth Potter ran a truly wondrous 14min 41sec at the Podium 5K event in Lancashire. That's two seconds quicker than the current world road record for 5K, and 10 seconds faster than the British record.
Potter's time is unlikely to be ratified owing to technicalities like the qualifications of the timekeeper at the event, which weren't of a national standard, and the lack of a referee. None of that changes the fact she ran that outrageously good time, which was 43 seconds quicker than her previous PB.
With that in mind, we thought there would be no better person to ask for tips on how to improve a 5K time. Potter is a triathlete rather than a pure runner, which on the face of it only makes the time she ran more impressive. However, she thinks her cross-training has made all the difference to improving her running.
"I come from a track and field background but I'm currently doing triathlon," says Potter. "Nothing has changed too much in terms of my run training. My interval session on a Tuesday and a longer tempo session on a Saturday are key for me, but I supplement it with a lot of cross-training. I think the things that have made the difference in my running times have been spending time in the pool and on the bike. The things that stick out for me is threshold work in the pool and then easy miles on the bike."
If you're looking to add in some cross-training along those lines, one tip Potter has is that cycling indoors can reduce the demands on your time. To get the same benefit from easy sessions, Potter says you have to spend twice the time cycling outdoors as you would running. "Using a static bike is good," says Potter. "You don't have to do as long on that, because it's constant pedalling."
With the threshold swims, you can get more done in less time, but be prepared to work.
"You keep the reps the same distance – maybe 200m – but it should be at an intensity or pace you can hold for half an hour to an hour," says Potter. "Then you keep your recoveries really short – something like 10 to 15 seconds between reps."
Back to running. We asked Potter what advice she had when it comes to interval sessions that will help you improve your 5K PB.
"My coach likes to mix it up for me, so I can do anything between 400m and 1,200m reps off fairly short recoveries," says Potter. "I always try to get quicker towards the end of a session."
Trying to ensure you can finish strong is also Potter's advice when racing your 5K. Keep the 3km point of the race in mind at the start to avoid emptying the tank too soon. On race day it will also make a huge difference if you can run in a group of people.
"That's part of the reason I asked to go in the quicker race [at the Podium 5k]," says Potter. "I knew that would push me. I knew it would be better to have people around me to drag me along than to be stuck in no man's land and have no-one around me. That's definitely important."
See related
Potter ran her 5K in the new Asics Metaspeed Sky carbon plate racing shoe. By now it's no secret that these shoes can help you set new PBs, but Potter suggests you shouldn't underestimate the benefits they can have for recovery times as well.
"I've found I recover much faster off the back of races," says Potter. "Before, my legs would be really sore and DOMS-y, and I'd be tired for a couple of days – but I was able to get up the next day and go out for a four-hour ride. I've had a pretty normal week this week, and that's to do with the new midsole foam and carbon plate."
Find out more about the Asics Metaspeed Sky on the Asics website (opens in new tab)
Sign up for workout ideas, training advice, the latest gear and more.
Thank you for signing up to Coach. You will receive a verification email shortly.
There was a problem. Please refresh the page and try again.